Market Analysis of Cloud PBX Till 2025
Cloud PBX Market Analysis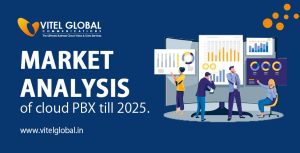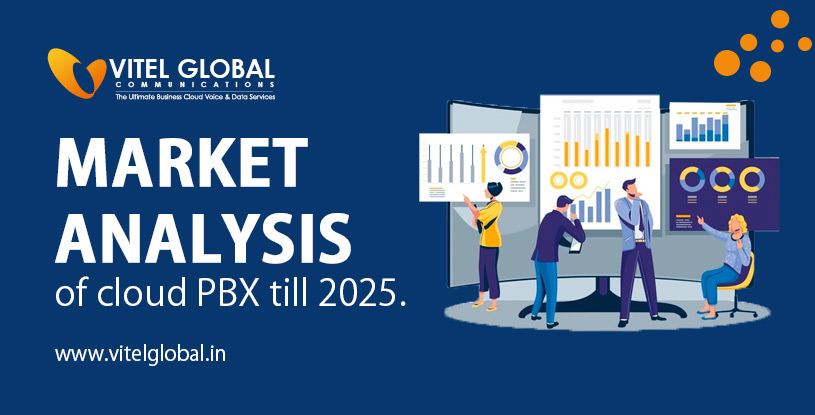 Cloud PBX is the trending tech word wandering in the communication world that has been bringing huge profits to organizations irrespective of their size and also started bringing change in personal communications or for residential purposes.
This blog mainly focuses on the future of cloud PBX including brief details of the meaning of cloud PBX, its advantages, and many other useful details are provided.
Let us see what cloud PBX is.
What is Cloud PBX?
Cloud-based private branch exchange, also known as hosted PBX or virtual PBX system is completely accessed and operated over the internet.
Generally, the entire digital systems host their software and data in the servers, but the cloud PBX hosts the data and software of your organization in the cloud.
In general, organizations set up an on-premises PBX, to which the entire telephones are connected for communication purposes. A hosted PBX setup is installed in the organizations or operated on the cloud thus helping organizations to reduce infrastructure and maintenance investments.
A hosted PBX uses the existing broadband connection to connect your phones to the cloud.
Easy installation
No maintenance issues.
Flexible
The best option for small businesses.
The major impact that has brought tremendous growth in the organizations by implementing cloud PBX technology is during the COVID-19 situation. The covid19 situation has made almost the entire organization irrespective of the fields whether they are related to the IT or non-IT fields allow remote workforce to use modernized and unified tools and multiple platforms that are allowed to access irrespectively of location and device. As cloud PBX technology is bringing many benefits to organizations this has imperatively become the future for many diversified fields.
Initially, at the beginning of the pandemic era, the implementation of cloud PBX technology has become a little bit complicated for the users, particularly non-IT people but gradually the flexible features and quality made users work easily collaborating with the internal and external team members.
Every organization that has implemented cloud technology right from the year 2020 till the present day, companies have observed tremendous growth in their annual income when compared to the prior annual growth before implementing this modernized technology used for communications.
Though the pandemic era has come to an end companies are allowing and showing interest in work-from-home methods by implementing cloud technology because of the benefits provided by this technology.
Benefits of Cloud PBX
Cost savings
Cloud-hosted PBX solutions are high-cost savings as clients invest money only in the services that are required to be handled in the cloud.
Time Savings
The setup time for installation and provision is very less compared to the traditional phone system. Time can be saved in server maintenance, and up-gradation of software is easy.
New hardware
No need of buying additional hardware like a phone system as an old phone system can be used as it can be interfaced easily with the existing infrastructure or hardware.
Flexibility
It is very flexible as the cloud system provided by top PBX providers allows anyone to connect from anywhere across the globe using a smartphone, desktop, or PC which allows employees to work from their homes.
Advanced features
Many additional features like call control, voice menu, time conditions, and call recordings are upgraded continuously with no additional cost and effort.
High-Quality
High-quality voice calls are delivered through cloud-hosted PBX over the internet with better compression rates and high internet speeds which are upgraded accordingly.
Scalability
It provides high scalability as it can easily scale to meet high usage capacity depending upon the user requirement related to resources.
Disaster Recovery and redundancy
Top PBX providers provide services with cloud systems with high reliability with highly dedicated resources and servers.
Top PBX providers will check out that when a disaster occurs unexpectedly then definitely there will be less chance of losing the data and even in case of losing surely there'll be a recovery for your data.
Real-time monitoring
Continuous monitoring and updates of the servers are done by the PBX providers that help get rid of data corruption and other issues.
Security
High security is provided and assured for your company's data and calls. It minimizes customer support as there are minimum chances of error occurrences compared to onsite systems.
Market analysis of the cloud PBX market till 2025
The cloud market by the year 2025 is expected to reach a valuation of USD 25.93 billion according to the latest report from market research future.
The global cloud market is expected to reach more than 14% CAGR diversified fields
The cloud market implementation is dominating large enterprises compared to small and medium enterprises ask not enterprises segment is expected to reach more than 25% CAGR by the year 2025 increasing the valuation of USD 4,000.61 million
When coming to the various sectors implementing cloud technology the healthcare sector is dominating the other segments like retail, government, and real estate fields but by the end of 2025, every sector or segment including BFSI is expected to implement cloud technology.
When coming to the regional dominant player of cloud technology, North America is likely to dominate because of the widespread add implementation of cloud technology in diversified industries and applications.
By the year 2025, almost all the enterprises in the US and Canada are likely to be the major driving forces for the cloud market holding a 50% share in the global cloud market.
North America is likely to reach more than 50% share of the global cloud market, in present, it is holding a share of 40.8% share the global market
Till 2025 Asia Pacific is likely to dominate and emerge as a powerful and leading regional market implementing an installing cloud PBX solution.
These are some interpretations that are extracted from the market research future reports regarding the cloud PBX market and the dominant regional players in the present and the future reports that are expected to grow by the year 2025.