What Role Does VoIP Play In The Financial Services Industry?
Reading Time:
3
minutes
Virtual phone systems or VoIP play a key role in improving the productivity of organizations irrespective of their size and field. One such field where huge benefits are achieved gained by implementing VoIP phone systems for business communications is the "financial industry".
Many organizations in the financial sector have upgraded their traditional phone systems to VoIP services…
Time-saving in customer calls
Handles multiple customer queries at a time, by directing the calls to the concerned department quickly
Call monitoring is done
Call reporting
Easy to share the data between the teams
In the past decade, VoIP phone systems have been said to be the most successful technology trending in the markets and many of the diversified fields have inclined towards VoIP services by leaving the traditional phone systems behind.
Benefits achieved by the financial industry by implementing the latest technology
Very flexible
Most of the financial industries have expansions across the globe, VoIP phone systems help the internal teams and management to stay connected with the teams of other branches easily using advanced features like video conferencing, audio calls, and many other features that are highly flexible for scheduling meetings, sharing the data and recording the meetings and many other advantages can be gained.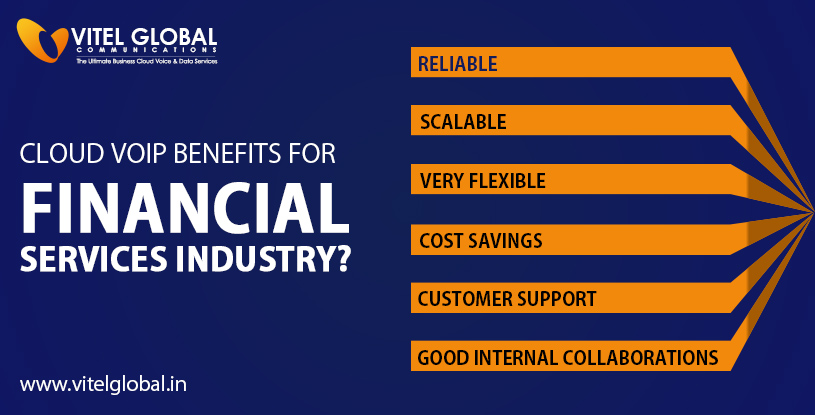 Cost savings
Businesses can compare the phone bills of the calls done by using the traditional phone system and VoIP phone call bills. There are huge cost savings done by the companies, particularly it is more beneficial to the start-ups and mid-sized organizations as many companies make international calls to stay in touch with their international clients.
Scalable
VoIP phone systems are highly scalable, as sometimes you may get a situation of attending and making calls from the office location where VoIP can be attended through mobile devices or from your laptop.
Customer support
Increased customer support can be observed in the companies by attending multiple calls at a time and resolving them quickly and efficiently through the automated calls
Good internal collaborations
VoIP technology allows access only to the team members over the information stored in the databases.
Internal teams work easily and quickly by collaborating and sharing information on a single platform thus increasing the efficiency of the organizations.
Reliable
VoIP phone systems are reliable phone systems because there is no chance of losing a single call when there is power loss as they are directed to other defined destinations like mobile devices or laptops.
VoIP Features
VoIP services are useful for the financial industry because of the advanced features integrated with the VoIP phone system that allows for handling multiple clients, customers, and issues and expanding their business simultaneously.
Vitel Global communications serve financial organizations with their excellent services rendered through the VoIP business phone system providing a seamless customer experience.
We deliver these communication solutions integrated with excellent features, plans, and benefits which are very easy to set up and to work on the user-friendly communication platform at a time by your team members.

For more details, visit our website and start creating wonders in your organization right away.
Book Your Free Demo Today – enquiry@vitelglobal.in | 040-69030303
Learn More – https://www.vitelglobal.in/
Published: December 15th, 2021
Subscribe to Our Newsletter
Get monthly product and feature updates, the latest industry news, and more!
By submitting this form, you agree we may contact you in the manner described in our Privacy Policy.