Business Phone Calling and Call Management at the Organizational Level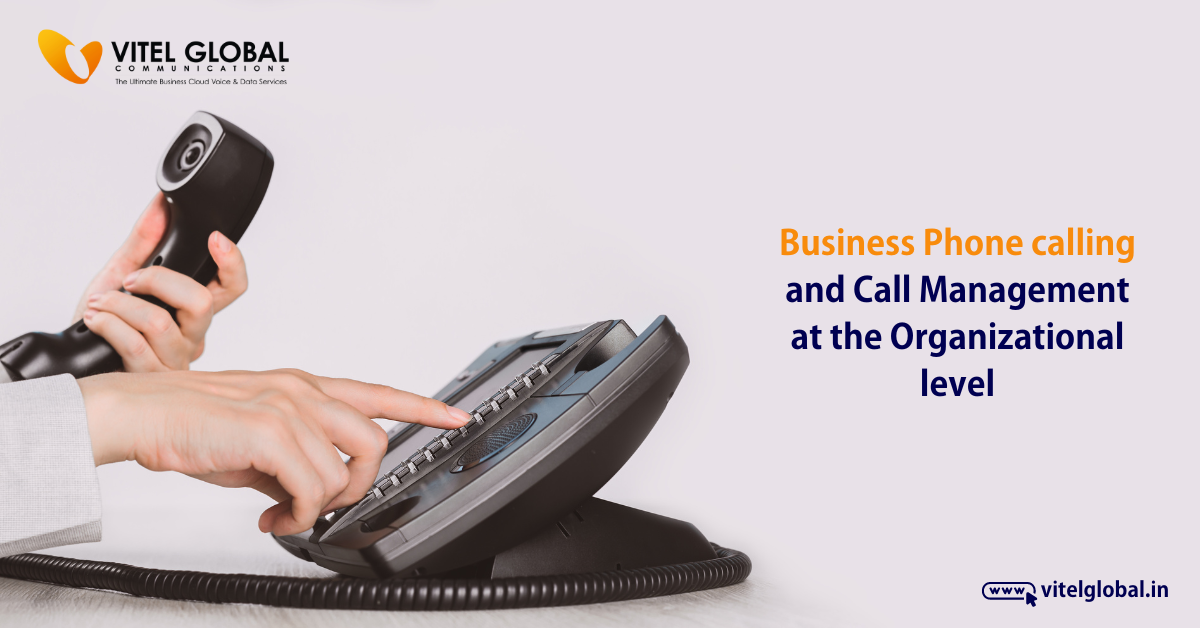 Straight to the topic, let us start with business call management first. Businesses, according to their functions, might receive more incoming, outgoing, or both. And, we know that firms have teams to handle the call flow with respect to the company size. Being Omni channel, business phone solutions allied with campaign marketing can create seamless wonders.
So, business call management is a process organizations use to handle incoming calls. This call management system can build relationships with clients and ensure prompt and satisfactory responses to customers.
An effective call management system is essential for handling and collecting data from calls, especially in call centers.
Call Management Systems Implementation:
Call management is all about intelligent routing in accordance with the system's calling parameters. Some of the features like call queues, IVR menus, and groups are examples. Hence, routing is done based on the caller's time, date, or location.
The caller can choose how to interact with a company using different call features. Technology can offer them a personalized experience. Additionally, these new calling features maximize agent call-handling efficiency by saving valuable time.
Call management – Contact Center Vs Conventional Call Center:
In the digital world of today, customers are communicating with businesses through a variety of digital channels such as chatbots, official email, social media, and more.
Well, in the contact centers, business infrastructure has to deal with a wide range of tasks.
Features of common call management:
We know that businesses have their own set of needs and targets. Any system should be chosen according to them. All they try to do is to make good use of the available features and increase their level of engagement with customers.
Having said that, there are some elements to consider:
ACD feature routes the calls to appropriate team members. This feature has predetermined criteria as per which the calls are routed.
Call recording and call tracking feature record customer calls and monitor team performance which is essential for business managers.
Agents gain situational information as well as the old history of the caller from call tracking to understand him better. The support team can tailor the customer experience through routing and responding to the calls using the above features.
This is an automated feature of a business phone system called interactive voice response. It gathers information about the issue and presents them with a pre-determined menu. Based on the caller's voice (in some cases) and keypad inputs, the IVR either solves the issue or escalates the call.
Call control service (call processing) in the business phone solution directs calls to assigned terminals.
Call monitoring is one of the most important features of Cloud PBX systems that enable managers to listen in on calls and assess the agent's performance. Through this, managers can comprehend how agents work.
Cloud-Based PBX Phone System and CRM Integration:
Businesses extract the customer data which is stored in the CRM solutions and it helps the agents to provide more individualized customer support. Because agents can access the customer's both current and historical data. Managers can monitor the quality of the calls, the number of calls made and received escalation, etc.
Benefits of Business Phone Call Management System:
Lost calls can be avoided with this efficient management system. Agents can readily collect the data from the system and analyze it. Additionally, efficient call routing ensures effective call handling.
Productivity is assured by comforting customers by attending to their calls at a quick pace and making sure that they don't have to wait at peak times. Downtime minimization and controlling the call traffic by routing the call to the best agent is done through intelligent routing.
Studying the above, it is clear that the company is able to provide faster and more efficient customer service. This results in a personalized and lasting customer experience.
The call management system is able to handle more requests from customers and helps agents work more effectively. Besides, this helps to reduce expenses associated with employees.
Campaign Management for Marketing:
Marketing Campaign management is the process of designing, planning, testing, and monitoring a campaign. Also, you need to evaluate the outcomes as a process.
Before planning for a campaign, you must validate what will suit your business and assess the plan. Remember that if it is implemented in a calculative process, most innovative campaigns might succeed.
Process of Campaign Management:
Fix your Goals First:
Create a campaign plan to capture and measure results with clear goals. Yet, determine the resources beforehand, so you will face no hurdles in achieving those goals.
For your reference, below are some goals we have provided that can help your business measurements.
Have to nurture existing leads by reminding your value
Update and offer to transit them along the sales funnel
Encourage existing customers to buy related products or to upgrade an existing product,
Targeting for a better frequency of customer purchases
To qualify leads and recognize potential customers
How do you implement a Marketing Campaign?
Identify your Audience:
If you are making strategies and goals, it is better to define your audience first. Try to make the marketing campaign meant to them, and it must be relevant to their requirements. Doing this step, you can interact with them directly so that you can increase your response rate. Your audience can be categorized and segregated in a few ways. To learn the correct strategy, learn How businesses match up with the ongoing market trend.
Prepare Your Marketing Campaign Tools:
Your motive is to connect your audience to the company. After determining your audience, it is time to determine the effective means to reach them. Tools include social media campaigns, brochures, or TV commercials but check how feasible it is to apply. It does not mean that you should afford expensive advertising works. Try to use creative strategies to do your marketing. The trick is simple. Just choose the platforms that best suit your goal and audience requirements.
Don't stick to just one source:
Because today's customers seamlessly switch between electronic products, provisions like retail, and almost everything. You must contact and redirect them across the venture. Therefore, you must reach them through a variety of channels called an Omni channel marketing campaign strategy.
Evaluate Your Marketing Campaign
This step can assure you of an estimated result so that you can make better arrangements. Hence, start testing campaigning variables with a small set audience prior to a major rollout. Just assess the response your subjects receive and the 'call to action button. Assess all variables one at a time and remember not to do the process in one go. Because if you test more than one variable at a time, you will not be able to understand the individual response to each marketing variable.
Conclusion:
Anything strategically should be monitored keenly, determining everyone responsible for carrying out each phase of your campaign. Assign correct employees for each specific work. For example;
One who carries out the design and writing
Agent who sends social media posts and mailers
Who will sign off on the work as it is done?
Draw a flowchart so all the team members are aware of the steps involved and that they remember their responsibilities.
In the end, it is essential to map the customer's journey so that you can guide him to the desired terminal. For that, switch between every marketing practice quickly. Observe the footprints to find out where they begin their journey and where they end up, and success can be determined by the purchase made. For more such business-related information and tips.
VitelGlobal promises the highest uptime simple system administration and quick addition of new members from anywhere in the world. Additionally, all of your staff can connect easily regardless of the devices they each use. Why not request a demo today?