What is Decision Making in Business Management is Important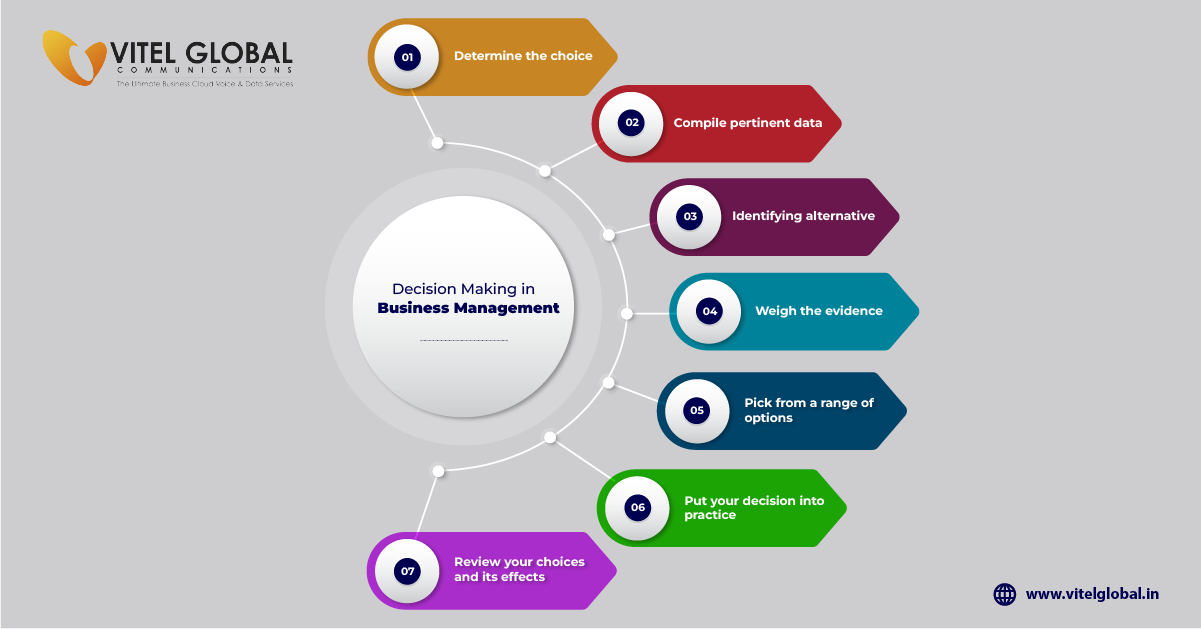 Reading Time:
4
minutes
It is true that operational abilities will lead to success in business management. Simultaneously, decision-making is the key determinant that confirms your business's success.
This article is very crucial if you are a business entrepreneur/leader, and it could clear a number of clouds that make your vision unclear while decision-making regarding your firm.
Before one steps into a business or takes a new step in an established firm, the first and foremost consideration is a SWOT analysis. Let us dive a little deeper into this!
SWOT Analysis
SWOT is an acronym for Strengths, Weaknesses, Opportunities, and Threats. This analysis is really important for any business before making decisions. For most businesses, SWOT analysis could save them from getting into trouble in hastiness. Bigger business organizations probably have more complex analyses. SWOT is the very basic form for analyzing one's strengths and weaknesses in the first place.
Below are the four parameters that have to be considered to understand one's stance before stepping forward.
Strength: 
The strength of an individual or an organization in business management is determined by a qualified team and operational efficiency. Besides, investment capability is crucial and can amend anything. Still, before stepping in to produce a new product or to extend the firm, it is better to assess one's own assets and whether one can meet the needs or not. Yet, make sure that you are always in abundance with respect to the strength factor.
Weakness:
Strength and weakness are mutual. So, if one exists, the other does too. Hard, but acceptable that weaknesses exist and persist but cannot be eradicated completely. Therefore, try to minimize the weaknesses to a level that cannot affect the productivity of the company.
If the location and the product of the company are feasible, then as in the case of strengths, investment capability and the choice of the staff members can generate weaknesses, and operational performances could be questionable.
Opportunities:
Whether your business has strengths or weaknesses, grabbing opportunities at the right time can be a game changer. It's true! New opportunities can direct any business in the direction of success. For that to happen, the team has to be always updated with current news so that you are ready to avail new opportunities.
Threats:
Something that must be addressed is a threat. It can drown the company! Not to discuss more a threat that a business might encounter, let us close it in an easy way. A threat tells you about the updos. Meaning; things one must not do to be safe and progressive.
Decision-Making in Business Management
Coming to the strategic decision-making process, we are trying to provide some proven steps so you can succeed without failure. Business experts create the stages listed below, and they can assist you in organizing your ideas. They make one decide cautiously and thoughtfully!
Determine the choice:
The first move is to define the issue and decide whether a choice is necessary. As discussed above, make a clear judgment to do what has to be and abandon unnecessary.
Compile pertinent data:
This step entails compiling both internal and external data. Self-evaluation might help you get internal data, so do it. Also, think about your motivations. Gather information from co-workers, the internet, books, and other sources. To meet the competition, always stay updated with current news.
Identifying alternatives:
As they emerge, identify and outline each potential path of action. These are the opportunities discussed above. Get a clear vision of what you want so that you can grab an opportunity at the correct time.
Weigh the evidence:
Using your knowledge and feelings, picture the potential outcomes of each course of action. Think about whether each option would address or resolve the issue while determining the choice. Based on your guiding principles, rank your potential choices.
Pick from a range of options:
Decide which action to take is best. It might potentially be a mix of different possibilities. Do not be cornered to accept one that does not suit your company. Be in a position to choose from a range of options.
Put your decision into practice:
There is no use if you do not implement your decisions. Hence, make a correct one and dare to implement it.
Review your choices and their effects:
Finally, look at the outcomes of your choice to see if it resolved the problem you mentioned.
Pitfalls while Decision Making
Managers can avoid making rash decisions that could have negative effects on the company or its reputation by using a structured approach to decision-making. The following are some decision-making problems.
Avoid Internal Collisions:
Consultation ambiguity can occur when a group of workers believes they all have a voice in a decision. One more case is when management solicits feedback but fails to take the opinions of a group into account.
It's crucial for management to ask for input but to ensure that contributors know that the manager's choice is final. To prevent discomfort, leaders must distinguish between their need for comfort and making the best judgment in order to make sound management decisions.
Appearing indecisive: 
A methodical decision-making process can occasionally backfire. Meticulously considering every perspective can prolong the process and increase the chance of coming across as indecisive. Keep all parties involved up to date on the decision's timetable.
Blind spots:
People might develop blind spots as a result of their unique viewpoints and ways of thinking, which may be crucial for making wise decisions but are not always obvious. To offer a distinct viewpoint, it can be beneficial to ask trusted colleagues for their opinion.
Group Thinking:
It works when individuals in a group fail to critically assess the ideas and points of view of others in an effort to reduce conflict and find an agreeable conclusion. It's crucial to consider options that a group may not have thought of.
Bottom Line
Communication in a business relies on its communication systems. Better communication can assure better operational efficiency as well as reduce miscommunications there. Once the whole team is conversing on the same platform, the management becomes transparent to an adequate level to avoid the above pitfalls in decision-making.
Understanding the needs of businesses of all sizes, VitelGlobal has come up with cost-saving plans tailored by our technical experts.
VitelGlobal promises the highest uptime simple system administration and quick addition of new members from anywhere in the world. Additionally, all of your staff can connect easily regardless of the devices they each use. Why not request a demo today?
Published: October 3rd, 2022
Subscribe to Our Newsletter
Get monthly product and feature updates, the latest industry news, and more!
By submitting this form, you agree we may contact you in the manner described in our Privacy Policy.