Empower Your B2B Sales with Cloud Telephony. Here's how!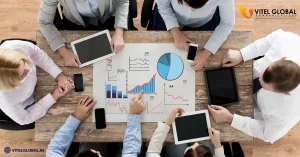 Introduction: 
Business-to-business sales probably deal with other businesses as their customers are being served as their unique selling proposition (USP). 
To face today's competition, businesses need to upgrade their communication systems. Cloud-based business phone systems generally known as Cloud telephony have changed the face of communications now. In this blog, we will share with you a detailed insight into how cloud telephony helps businesses to improve B2B sales along with the essential features businesses of all sizes need in their phone solutions.
What is cloud telephony?
In making it simple, cloud telephony refers to the process of making or receiving calls via the internet (or the cloud).
It creates standardized telephony platforms that are run and managed by cloud communications providers. Once subscribed, the service provider gives customers remote access to these platforms via the internet. Businesses can replace their traditional, on-premises telephone systems with cloud phones. Because setup and operation costs are typically low for cloud solutions.
There is no need for businesses to worry about buying cloud telephony services. Because any computer or mobile device with an internet connection can work to make calls directly. It is a multi-tenant access model that lets customers pay for and use the service of shared resources. Hosted telephony typically refers to a single-user environment where a major cloud carrier builds, houses, and maintains it.
Unified Communications as a Service:
UCaaS include cloud calling while bringing all the required communication features onto a single platform. 
Through a third-party provider, this technology is a voice communication service. It also includes options for web-based or application-based cloud telephony services. Also, it works with traditional business telephone systems like private branch exchanges.
Internet telephony:
All cloud telephony platforms make use of the Internet. The term internet calling simply refers to the transmission method for call information. In addition, it works over internet connections which use packet switching rather than copper wires.
The on-site private branch exchange (PBX) that an organization is outsourced to a Cloud service provider to handle. Several businesses create hybrid VoIP environments that combine cloud-based and on-premises telephony. Today, technology is part of a long-term cloud migration strategy.
How can cloud telephony enhance B2B sales?
It was in the old day when people used to travel a lot to meet their clients in person. But in the present day, technology has taken over every element of communication to an advanced form. 
Now, let us discuss the cloud operational features with which it changed the face of today's business communication. 
Operational Benefits of the Internet Telephony:
It is a straight assertion that cloud telephony is superior to traditional on-premises systems. VoIP allows remote extensions where you can work from anywhere and earn money while saving money. It can also let people talk to each other from anywhere in the world. 
As a result of this, it facilitates enterprise communication leading to your company profits while resulting in enhanced teamwork and output. Amazingly, you can only rely on necessities to pay your internet service provider's monthly fees.
More Bandwidth:
Cloud telephony works with higher bandwidth and thus a cloud PBX is good for your businesses. Additionally, it enables the elimination of unnecessary speech to boost productivity.
HD Audio Quality:
Cloud-based PBX systems deliver calls with good speech quality and this is another advantage. Users are able to quickly communicate both internally with teams and externally with their clients.
Safe Operations:
Additionally, instant messaging is a great benefit. Advanced security parameters are installed by the providers to keep an organization's communication data safe. Innovative security aspects are great for both small and large teams because they provide call forwarding and automated attendants.
It has mobile-friendly conference calling capabilities. In order to integrate with other commercial systems, it can easily adapt to streamline business operations. PBX systems with unified communications services for businesses include chat, online conferences, voicemail, faxes, mail, and many more.
Despite its robust features, the phone system is still affordable.
Multitasking:
Additionally, your business phone system can perform multiple tasks at once. It is possible to communicate globally while simultaneously sharing documents and images. Also, it is a relatively cost-effective option if your company frequently makes long-distance calls. Because you do not need to spend money on phones and extra hardware for business communications.
Besides, even mobile devices can use all the features of the cloud phone system. Internet-based voice conversation is made possible by installing the softphone application on a PC, tablet, laptop, or even a smartphone. With all the above, you have options for customization that meet the specific requirements of your firm.
Supports Remote Work:
The business phone solutions include essential features like auto-attendant, conference calling, and quick video calling, which can continue to be used by employees. While working remotely, these features can support the team with better productivity while further reducing costs.
Data Recovery:
For any organization, it might be a small, medium, or large-scale one; data is the most important asset. Therefore, a variety of security levels guard cloud-based phone systems. So, when stored in the cloud, this technology ensures that a backup copy of your data is always available even in the event of a natural disaster.
The benefits of Cloud Telephony that helps your business to invest less and earn more profits:
Affordability:
It is not all that you save money on infrastructure costs, organizations benefit greatly from its features where you can operate everything from your home. They outsource hosting and maintenance tasks for this purpose. These responsibilities are sent to a subscription-based communications provider.
Flexibility:
You can worker can make and receive calls from any location with an internet connection using. A cloud-based phone number can make mobile work go more smoothly.
Resilience:
Any natural disaster or calamity can cause the destruction of an on-site PBX system. However, cloud services frequently offer robust services that are dependable for business continuity. 
Scalability:
Businesses should have the ability to modify the phone numbers of their employees by using a self-service portal. This will make it easier for them to increase or cut down the number of phone lines at times of requirement.
Operational Transparency:
Unified Communication platforms frequently include rich data analytics to suggest increasing staff productivity as well as information on user behavior.
Therefore, cloud-based business phone solutions are always ready for expansion with UCaaS highlights. For instance, voice and keyword analysis, call center functionality, IVR, and customer support are examples of such features. 
Conclusion:
Cloud communication is used to control every business sector in the present day. Therefore, a cloud-based phone system might be a wise investment for your company that can reduce the investment while offering great business profits. 
Whether your firm is a small or large/ B2B or B2C, VoIP can outperform traditional phone systems in terms of dependability, security, and value, giving your company a wide range of capabilities. 
To sign off, Cloud phone systems are a great choice for start-ups and small businesses thanks to the aforementioned benefits offered by today's digital technology. 
Vitel Global India is a cloud-based phone solution that is best in class and includes fully secured, cross-channel communication. It enables your agents to seamlessly shift support interactions from one channel to the next. See how it works to learn how Vitel Global India can help you to choose the right communication. Why not request a free demo today?