Top 5 Things Successful Leaders Avoid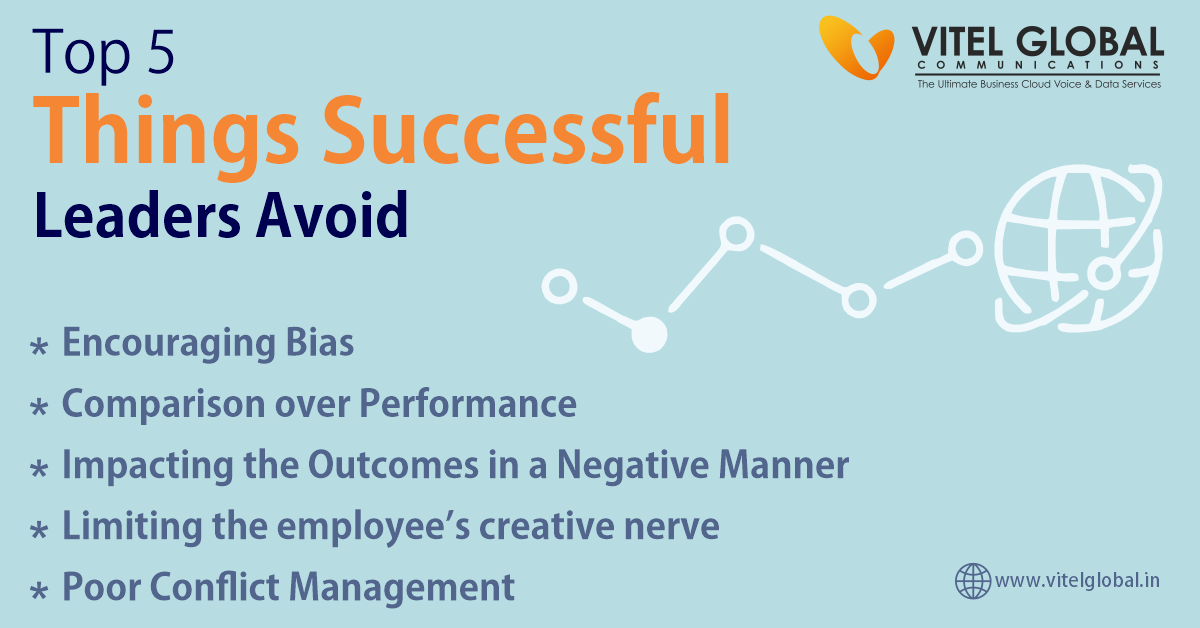 Reading Time: 4 minutes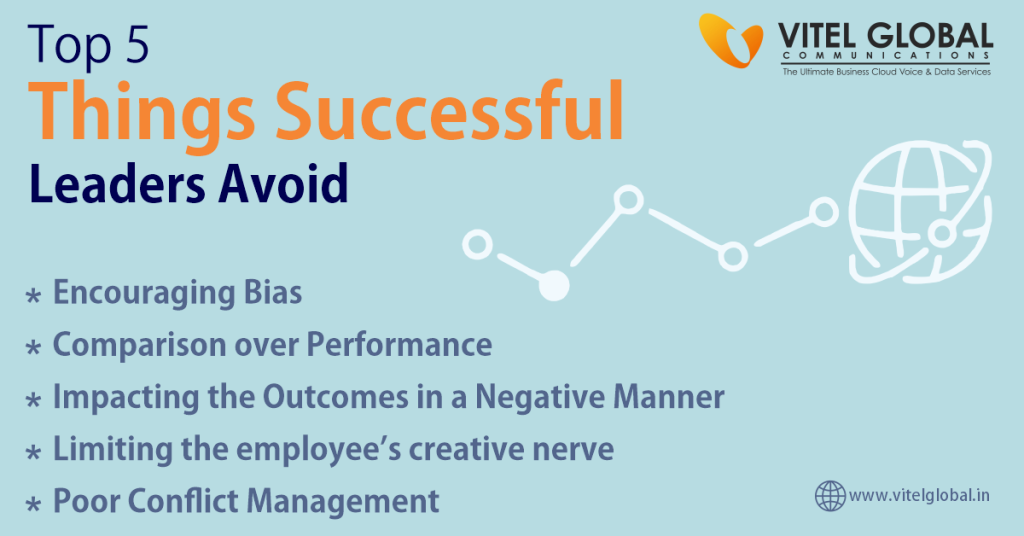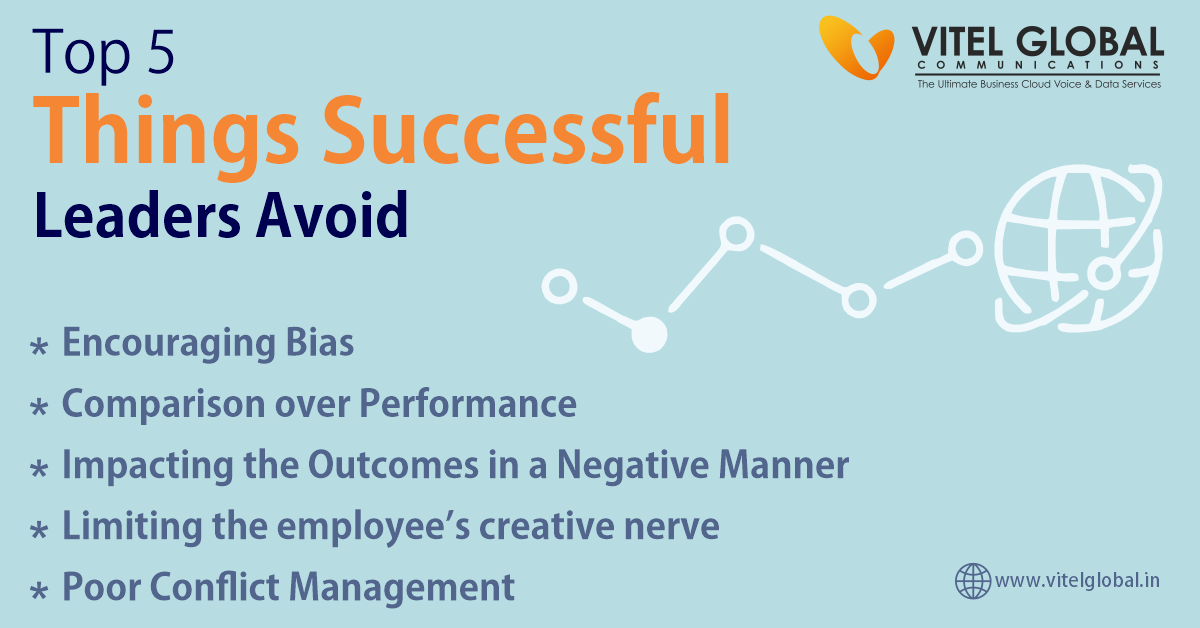 Leaders emerge from real-life problems, leadership is important when coming to managing a team.
Before we delve into the more detailed part of what Successful leaders avoid, we will list those things they won't avoid. 
Practicing good communication with every employee
Knowing the limitations of the team
Researching the personalities
Creating an inclusive workplace 
Organizing motivational sessions to boost the self-esteem of the employees
Avoiding being bossy
Working as a part of the team than being away from them
Any leader must adapt according to the situation. 
A successful leader will comply with the above key principles to increase the workforce's productivity. 
Now that we know everything about what successful leaders do to stay on top let us discuss what they don't do. 
In this blog post, we have listed 5 things after closely observing the methodology of successful leaders.
We will first point out the traits and then elaborate on them. 
Encouraging Bias
Comparison over Performance
Impacting the Outcomes in a Negative Manner
Limiting the employee's creative nerve
Poor Conflict Management 
Leaders who encourage Bias in Workplace
We tend to see few leaders, whether they are CEOs or managers, who rely on creating a bias. 
There are two instances of bias coming into active mode. 
One is the leader isn't aware of their actions. They may encourage bias without being noticed. 
Their actions, decisions, and words will prove how biased they are when dealing with certain individuals or communities. 
There are different types of bias that we can spot, most found biases are:
Confirmation Bias
Cultural Bias
Gender Bias
Observer Bias
Let us see in brief what these common biases refer to. 
Confirmation-biased leaders rub their thoughts on the employees and are not welcomed persons when coming to feedback. 
Even if an employee approaches with a different approach in the most practical way, the leader has already planned in mind and never alters it. Confirmation bias is seen during collecting inputs while working on a project, implementing new strategies, etc. 
Cultural bias will overlook the values of cultures, and pushes the targeted culture, and make them more comfortable while working. 
If a leader continues to practice for longer periods, employees will identify easily and that leads to the marking as poor leadership. 
Gender bias has seen a huge decrement in recent years. Due to the protests done by many associations and sharing of thoughts of the idea makers, gender bias has decreased. 
Though it has seen a decline rate officially, there will be few leaders who still practice it. 
This can be observed by a few things:
Assigning the tasks based on the gender
Assessing the performance of the employee based on the gender
Lack of encouragement for a specific gender 
Soft corner towards the favored gender 
And the last on our list is the observer bias which refers to the bias based on the own thoughts imposed on the other person's work. This is generally seen during the evaluation process. 
Comparison over Performance
The performance of the employees is backed up by the skills they own, the strategies they develop, and the overall workflow.
If a leader constantly compares one employee's performance with the other, then this will be a meager tactic of a leader. 
No two employees are identical to each other. 
This is due to the universal fact that we all think differently and we all have our setbacks and ways to deal with problems. 
Comparison based on performance is not recommended for leaders who would like to become successful.  
Impacting the Outcomes in a Negative Manner
If any leader constantly pushes his team for delivering tasks within time or pressuring them to hurry up the work improperly comes under the leader's incompatible nature towards handling the employees.
For any leader, there will be a way to convey the message when an employee regularly fails to finish the tasks. 
Interacting with the employees is never easy when they struggle to keep up with the tracking of tasks. 
A leader should interact in a proper manner with the employee by not entertaining judgmental behavior here. 
Limiting the employee's creative nerve
Every individual has some extent of creative thoughts circling in their mind. These thoughts may be the contributing factors or also foundation stones for the next business idea. 
Leaders should be aware of this fact and allow the employees to come up with their thoughts and applications. 
This will create a feeling of inclusion and belonging to the organization from the employee's perspective. 
Those leaders who deny their employees creativity straight away are going to meet a dead end in the business soon. 
Poor Conflict Management
Conflicts usually occur between teams or individuals based on the situation. 
If a leader lacks skill in handling conflicts wisely will only worsen the conflict instead of resolving it. 
Employees often report their personal and professional issues to the higher authorities to pay more attention to prevent any conflicts at the workplace.
Poor conflict management leads to an overall reduction in workforce productivity. 
Not only this but also poor conflict management fuels negativity in the workplace. 
Conclusion 
To conclude, a thought-provoking leader will take the necessary steps to avoid any type of bias.
He/she constantly works on improvising the workplace with the latest techniques and technologies.
With the assistance of the teams, leaders lay a platform for more opportunities by having a future vision.
The above-mentioned biases are commonly seen in every workplace, and they need to be eliminated if you are a leader of any organization.
Grow your business and maximize productivity with the industry's best business communication service.
For More Info or Book Your Free Demo Today Click here
Published: August 9th, 2022