What Is SIP Trunking?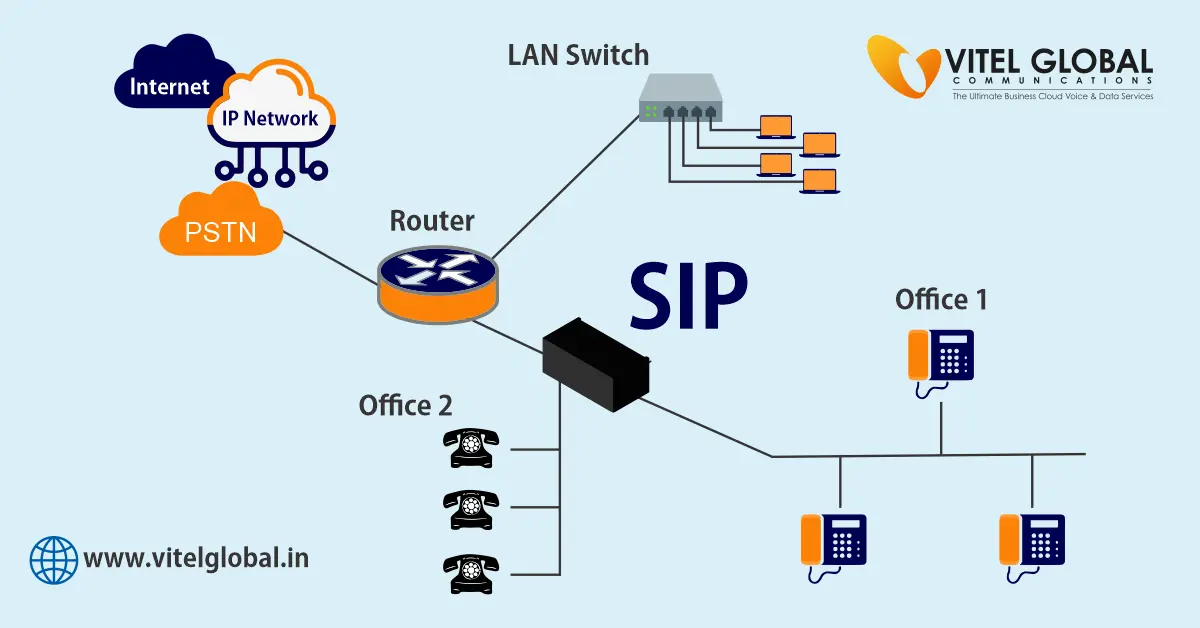 Reading Time:
4
minutes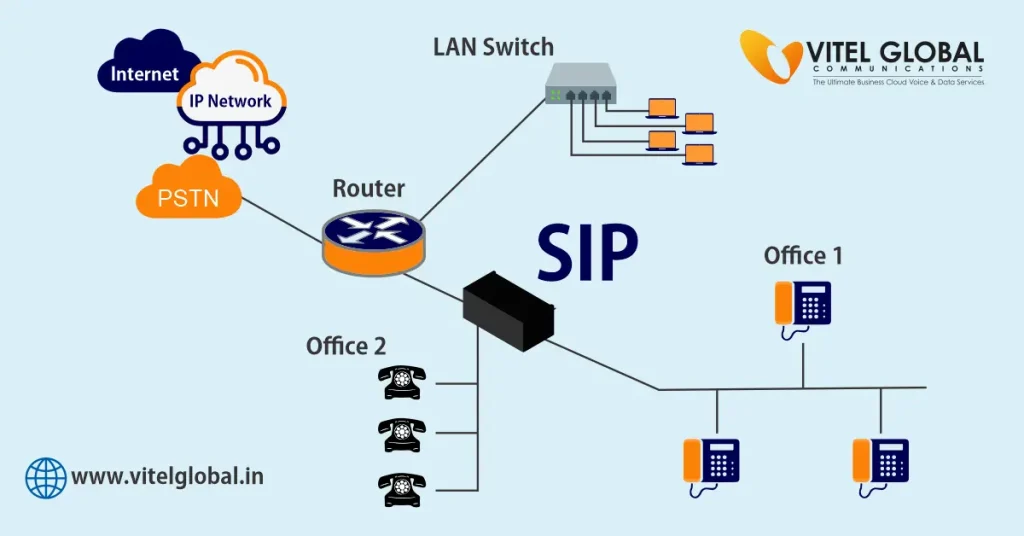 The Use of SIP Trunking
Describe SIP trunking.
It is an internet protocol that connects people. SIP trunking enables voice and data communication while giving them complete control over the data transport.  But, the cost of this service varies depending on the service provider and the extra services offered. 
Define SIP Trunking.
SIP stands for the session's initiation protocol. The other name for SIP trunks is virtual phone systems. Voice calls and video conferences are managed by it. It accesses the data transmission and turns on the necessary features whenever required.
The term "trunk" refers to a wire that connects remote communication system nodes as well as carries internet communications. The major usage of virtual numbers is for making and receiving calls. Thus, Voice over Internet Protocol, or VOIP, is an internet calling system.
Here, SIP trunking is the protocol that supports VOIP, which creates connections between end users to allow for file sharing, browsing, and messaging along with phone conversations.
Features of SIP Trunking: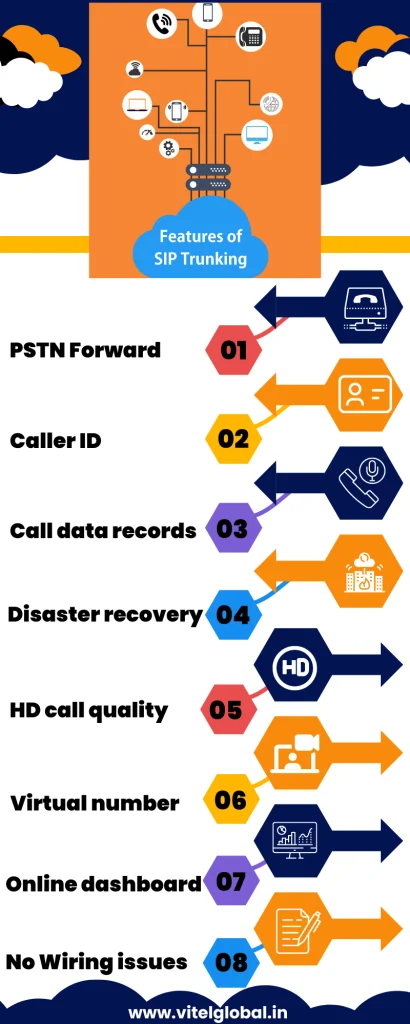 1. PSTN forward: calls are forwarded to the public switched telephone network and changed into local calls there
 2. Caller ID: Access details about missed and incoming calls.
 3. Call data records: keep thorough logs of all calls made, missed, and called.
 4. Disaster recovery: saves data across several data centers to prevent system outages or natural disasters; data can be retrieved as needed. One crucial aspect is that unauthorized individuals cannot access any third-party information.
5. HD call quality: Delivered calls are in pristine condition.
6. Virtual number: A virtual number is given for call forwarding.
7. Online dashboard: Users can access the information at any time.
8. No Wiring Problems: Its scalability enables more users while doing away with the requirement for physical lines.
Considering all the above, the trunking technology keeps the organization's capability for high call volume high and makes it simple to integrate with any other software and updates. You can also avail the number porting option even if your location or service provider changes. You can still use the same number.
Besides, any new modifications are permitted. If you want to customize the bandwidth, you can contact your service provider for the same. SIP and VOIP connectors provide great call volume balancing management.
Why are enterprises oriented towards this technology?
SIP technology helps your business to consolidate several digital streaming options onto a single platform. This means businesses can streamline various multimedia operations simultaneously without installing physical infrastructure at the sites on IP-based networking.
Every business wants to grow! Doing so is simple with the help of a modernized communication system. Because, upgraded technology always helps in making inexpensive or economical international calls accessible at local call rates.
Besides, you can maintain the same number that satisfies users by enabling them to utilize the same number remotely in the event of an address or service provider change.
About Infrastructure:
SIP trunking offers an infinite number of channels without requiring the installation of physical infrastructure, allowing the insertion of new channels as necessary. There is no need to worry because data is safe at many places or data centers. You can route the calls to other numbers specified during the registration procedure. Note that VoIP data centers must have a backup to keep every type of disaster in mind.
The top service providers of this technology make sure to deliver voice calls with low latencies. So, businesses save time in completing the transactions quickly as there are no interruptions in voice.
VoIP has a 99.99% uptime rate. It has wonderful features to provide local to international toll-free lines, letting companies choose the area codes. You can do International call savings by paying only for the services you choose which mean no extra charges for new lines.
Interoperability is highly encouraged which means increasing the infrastructure's capacity. The communications network is linked with high-end encryption, and no unauthorized users are permitted to access the business calls.
How to set up?
SIP Trunking is very simple to set up, manage, and maintain, avoiding complications in Cloud PBX system troubleshooting. This can keep track of the call detail records' access information at all times. Please follow the steps below:
Evaluate your company's needs and determine the channels you'll need; this will entirely depend on the volume of calls you'll be receiving and making.
Continue to use dependable, fast internet connections.
Replace your company's systems with SIP-capable IP devices.
Have a conversation with the sales representatives of the short-listed vendors on the market.
Check the subscription fees assessed for each channel.
Verify the features and turn them on. On occasion, you can spend extra expenses on extra features.
Select the option that offers the best value.
Conclusion:
As the top service provider, Vitel Global strives relentlessly to help our clients in conducting routine business operations and a quick setup of the technology which is absolutely affordable.
Our team of experts makes your data in the cloud accessible from any area enabling your system integrations with current PBX or SIP platforms. 
With our prior motto of constant customer service, we are always available just a phone call away.  
Grow your business and 𝒎𝒂𝒙𝒊𝒎𝒊𝒛𝒆 the 𝒑𝒓𝒐𝒅𝒖𝒄𝒕𝒊𝒗𝒊𝒕𝒚 with the industry's best business communication service.
For more details, visit our website and start creating wonders in your organization right away.
For More Info or Book, Your Free Demo Today click here.
Published: September 21st, 2022
Subscribe to Our Newsletter
Get monthly product and feature updates, the latest industry news, and more!
By submitting this form, you agree we may contact you in the manner described in our Privacy Policy.