Business Phone App: Calls, Video Meetings and More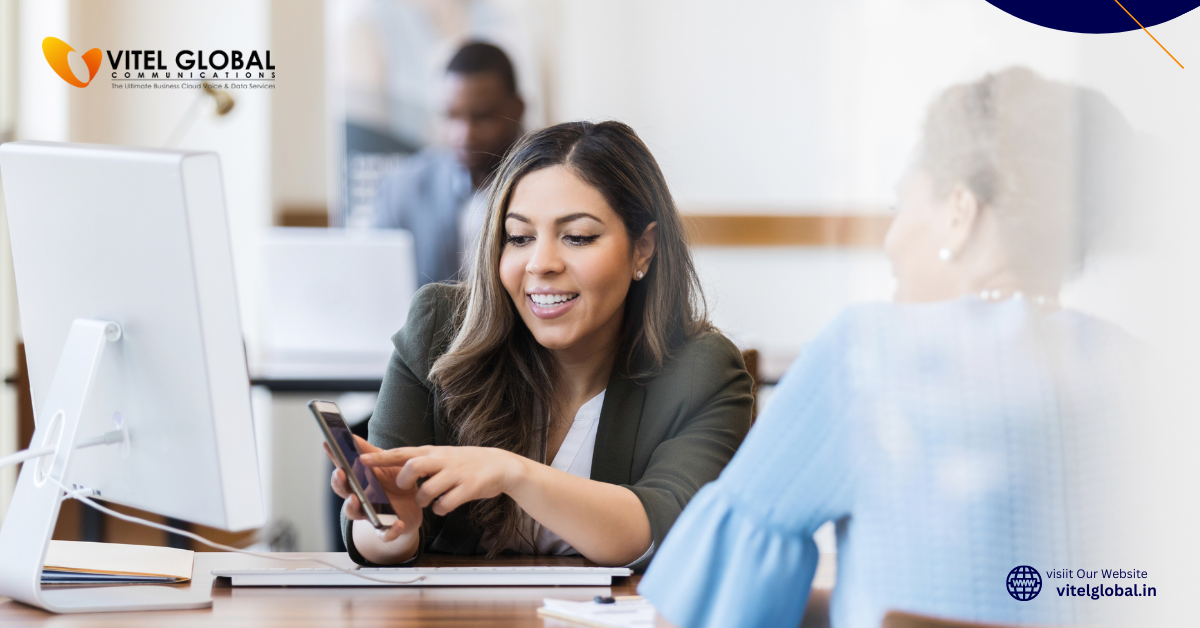 Reading Time: 5 minutes
A business phone app is a software program that is used in business phone solutions that lets your employees receive calls from customers directly to any mobile device connected to the internet.
Using a softphone app, your agents will be able to operate from any location. Employees can connect to and answer business calls from any device by using individual virtual phone numbers that are provided.
But, it is not a phone despite its name. It is software that lets you make calls over the internet from a computer, phone, or tablet. Softphone software is usually provided by your business phone provider. It has a familiar interface that works like a regular phone. Users can dial numbers and access all the cloud calling features such as an auto attendant, do not disturb, and others. 
A short glance at its features:
Place and receive phone calls
Call transfer
Call Waiting
DND
Call Forwarding
Privacy
Contact lists
Texting
Video Calling
These are essential features of a business phone system and one can avail of every feature of cloud telephony in softphone apps. As everything has its own benefits and drawbacks, softphone apps do have certain pros and cons.
How is a softphone app beneficial to your business?
Save your investment:
The unique advantage here is their low cost. Because they are software apps, you only need a smart or internet-enabled device with a headset to use them. Maintenance happens with your monthly service fee. Video calls/ multiple call conferencing are included in the majority of services by default. 
So, you can save money on hardware, phone service, and phone maintenance with softphones. Also, upgrading your system is as easy as updating your software (the service provider does it). Additionally, softphones enable international calls at a fraction of the cost compared to traditional international calling methods.
Expand your business lines with ease:
Your business phone must be scalable to face today's competition. Hope, if you choose a software-based business phone system. This means that your softphone system can easily change as your business grows.
Softphones' adaptability:
This is a significant advantage of a softphone. You can make and receive calls from any location in the world. All you need is a smartphone, tablet, or computer. Because a softphone works with any device that can connect to the internet. Softphones are perfect for businesses with multiple locations, telecommuters, and frequent travelers. Additionally, softphones safeguard your privacy and you do not need your personal number.
Upgrades and Integrations:
Softphone integrations are becoming increasingly significant. For instance, softphone apps are capable of integrating with CRM platforms. It ensures that each call is routed to the appropriate contact in your system.
This software can be easily upgraded. Hardware must be completely replaced once it becomes obsolete. Furthermore, upgrades are available without the need to purchase new software.
Offers Omni Presence:
Employees can avail the benefit of Omni presence with the help of the softphone app. Because one of the most important aspects of effective call management is undoubtedly real-time presence. You will be able to view the availability of business associates in your network using a softphone. So, they can check to see if they are available and how to get in touch with them.
Hosting Video Conferences:
Today's business needs the ability to host video calls and it is a major advantage of softphones. You can call someone as you would on a standard desk phone, or you can connect with them via video call. Today, after the COVID-19 pandemic, this video calling feature became very useful. Despite the fact that many businesses and clients prefer face-to-face meetings, video calling is frequently regarded as a viable alternative. 
Also, users can take part in multi-line conferencing in the comfort of their own homes or workplaces. Furthermore, since the calls are being made through the app, neither costly hardware nor other payments are required.
Call Recording:
Softphones make it easier for users to access recordings of phone calls. Storing data can definitely come in handy in the future for any kind of reference. Vitel Global suggests that it is much simpler to access recorded phone calls with the app that makes use of Cloud-based phone solutions. Besides, you can access recorded calls just by clicking on a link to an online file. This file is automatically created after each call. Store and share these with a single button click.
User Experience:
Softphone apps can create a simple service; this is what employees expect from reliable business attributes. Therefore, it is essential to find the best ways to upgrade your space without adding more clutter. Because, the majority of businesses, especially home-based businesses, are attempting to maximize space while also eliminating issues.
In general, a desk often houses things like phones, computers, supplies, etc. But, it can make it harder to maintain regular sanitation. If you are dealing with limited space and trying to prevent the spread of germs on dirty surfaces. However, since a softphone is essentially just an app installed on your device, it aids in the elimination of unnecessary clutter.
How to choose a softphone?
You must consider features and cost when selecting a suitable softphone app for your business. Although softphones are generally regarded as an inexpensive alternative to other phone systems, the features and monthly service costs differ according to the service provider. 
So, it is better to think carefully about which features are essential when comparing prices. In fact, it depends on your requirements as many service providers provide limited, free versions of their software. However, make sure you get the most value for your money by comparing the features and costs of each provider separately. For example, voicemail, call forwarding and transfer, redial, hold, auto answer, and Do not disturb are all features you should look for essentially.
Besides, make an estimation of the number of lines or phones you'll need. Select a service provider that easily accommodates the required number of lines.
For your information, start with considering the operating system. What is compatible with your operating system?
Ans: macOS, Windows, iOS, or Android
Addressing the business needs with such questions is essential because not all softphone applications can easily integrate with any other systems, like a CRM, Outlook, etc.
Conclusion:
Let's wrap it up now! Now it's time to start looking into which service provider would be the best suited for your company now. 
Hence, you must have a better understanding of what softphones are, how they function, and the features and benefits they provide. In addition, you should determine your requirements like the number of lines and the list of features. These in turn are determined by the USP of your company through SWOT analysis. 
First, determine the particular features you require and the price you pay for them. If you don't need any of the advanced features, you should go with a plan that is simpler but scalable.
Therefore, make sure the provider works with your operating system, hardware, and third-party tools.
Do I need any guidance regarding this?
We are the best providers of VoIP with softphone technology, along with their prices and available features.
Vitel Global India is a cloud-based phone solution that is best in class and includes fully secured, cross-channel communication. It enables your agents to seamlessly shift support interactions from one channel to the next. See how it works to learn how Vitel Global India can help you to choose the right communication. Why not request a free demo today?
Published: January 16th, 2023