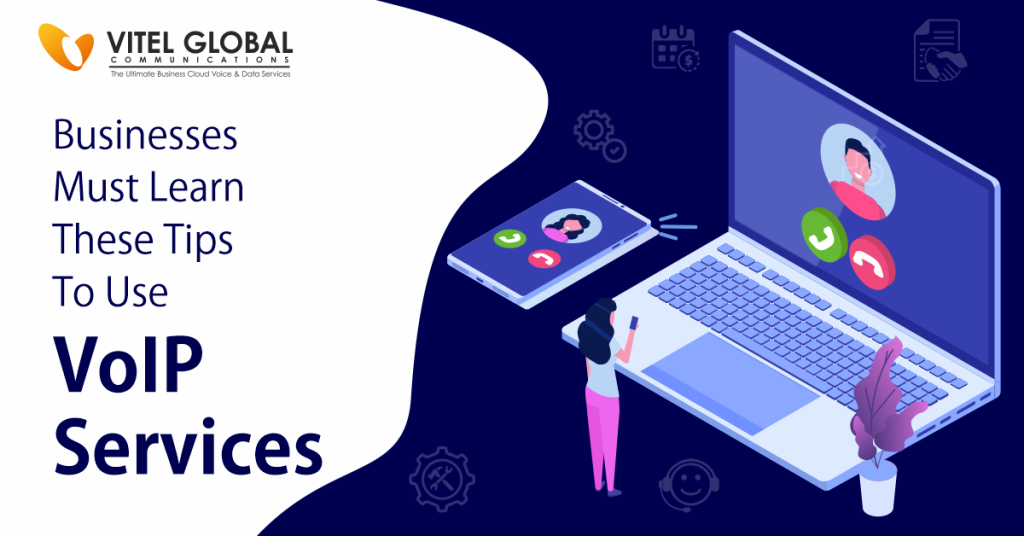 Businesses must learn these tips to use VoIP service to the fullest.
No matter how big or small a business is, it needs good communication to be successful.
The more advanced technologies are currently used in communications. This makes the business a bit faster and can expect more returns and be successful. One such sophisticated communication technology helping small and large businesses is the "VOIP" services.
The term "VoIP" is often used interchangeably with "Voice."
An Internet Protocol (IP) network uses VoIP (Voice over IP) technology to send voice messages.
For the first time, it is possible to make and receive calls via the Internet using various devices, including smartphones, tablets, laptops, and computers.
To make a VoIP call, the sound is turned into electrical signals, binary, encrypted, transferred over the Internet, and finally reconstructed when it arrives at its destination.
To place a VoIP call, an IP phone is required and the process is as follows.
Initially, the sound is converted into electrical signals.
VoIP is a flexible, customized technology that expands telephony's capabilities while decreasing call expenses. When working with high call volume departments (such as customer service or marketing), this is a critical tool.
Working Process of VoIP service
An audio codec software helps in converting the speech data into electrical signals before it is sent over the VoIP network. The operating system assists in dividing the binary data into "packets."
A codec program processes these packets and transforms them back into the voice of the person on the other end of the call over the Internet Protocol (IP) network.
What does it mean to be a VoIP Service provider?
VoIP providers act as internet telephone operators to use IP technology to make and receive phone calls. This means that the following are essential services that respective supplier must provide:
-Software that can process and convert voice calls
-Network equipment
-Access to servers that can cover the calling area
-Access to a private communications platform convert the signal when a call is transferred to a traditional phone line
-A technical team to support the company's use of VoIP technology and to keep the system secure.
Benefits to utilizing VoIP services?
Being successful in business is the ultimate objective of every company's effort. In addition, VoIP plans help to save money by providing a cost-effective call management solution.
The VoIP phone service enables small and medium-sized organizations to integrate their call solutions.
Such as call recording, monitoring, transfer, emails, SMS, and IVR.
The ability to quickly and easily link critical programs such as CRM, and Salesforce, is also provided by this feature.
Few tips or suggestions are provided here to assist our readers in learning more about the benefits of VoIP services in detail.
The ability to reduce expenses while also improving performance.
A VoIP phone system might save money by reducing the cost of phone calls. When it comes to business phone expenses, firms may be able to save money by switching to VoIP phone services.
VoIP call solutions are more cost-effective for multinational corporations than PBXs or conventional phone systems.
Keep track of crucial phone calls using call recording and monitoring, as well as call transfer, IVR, and business text messages.
Enhanced accessibility and availability: Another advantage of using a cloud-based VoIP service for any business in the new normal is that one can make calls from anywhere in the world. In today's increasingly virtual work environment, this is quite advantageous.
To be adaptable and productive no matter where workers work, consider a cloud-based business phone system for small and medium-sized businesses (SMEs).
The ability to choose your calling rates: due to VoIP technology, the costs of making international calls can be cut down by a lot or even eliminated.
From anywhere in the world, teams can speak with team members and clients. Because of the technology's use, VoIP calls, whether local or international, are also less expensive.
Some More Benefits Include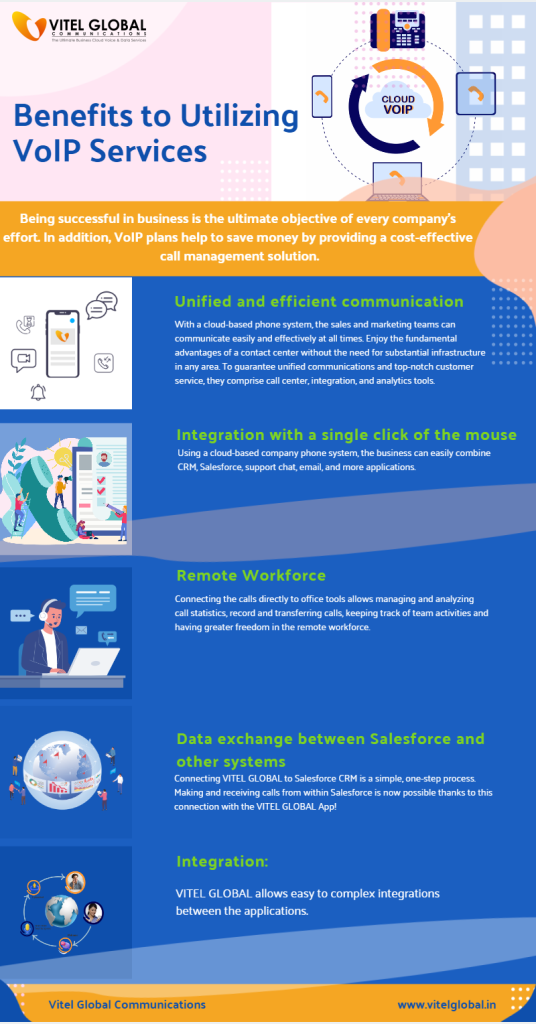 What are the advantages of VoIP technology compared to traditional phone services?
Unlocking more features while making a call is possible with Cloud-based VoIP phone solutions.
This is the reason why these phones are preferring currently over PBX or traditional telephony.
In-depth call center options
SMBs may convey the impression of large corporations using cloud VoIP solutions. One may use VoIP phone services to take advantage of advanced capabilities like call queueing, routing, monitoring, and conferencing.
The use of hardware is not necessary.
VoIP phone system enables the user the need to hire IT professionals.
Technical assistance in troubleshooting the issue that arose during the utilization will be taken care of by the providers themselves.
There will also be no need to have an extra space to host the PBX for operations, and traditional phone systems rely on an on-premise PBX.
The capacity to expand and grow with ease.
As compared to traditional PBX, VoIP call solutions are easier to scale. Since VoIP does not require new installations or additional equipment purchases, it is far easier to grow and extend than traditional phone systems.
After speaking with the service providers, scaling cloud-based business phone solutions is as simple as a few clicks of the mouse.
Intuitive improvements are available at any time.
Another key advantage of using SMEs is firms can quickly update the VoIP call service with a single click. VOIP call solutions are always safe and dependable to the automatic upgrades that take place in the background without anyone's permission and awareness.
Lower repair and maintenance costs
The whole rate includes the price of maintaining VoIP systems. A landline or PBX is far more expensive to maintain, so save money by not having one.
Integrations with other systems
One of the biggest advantages of using a hosted phone system in the cloud is the ability to incorporate dozens or even hundreds of different third-party apps. With a VoIP phone system, be able to incorporate business-enhancing software and technologies into the communications with customers. Businesses can give their customers the best service possible by using VITEL GLOBAL quick and easy integration of CRM, Live chat, eCommerce, Help Desk, Quality Assurance, Sales Automation, Surveys, SMS, Payment and Billing, Data and Reporting, Social and Fun, and many other features. Vitel Global App also provides more options to avail while on a call which facilitates in increasing the engagement.
Voice quality that is crisper and clearer
Cloud-based phone systems allow small and medium-sized businesses and corporations to stay in touch with their clients throughout the world.
Interacting with the customers globally without compromising the quality of the call is possible here.
There's no doubt about the quality of the business call, no matter where customer service is functioning. VoIP may meet a wide range of communication demands while also being extremely dependable and safe.
Any small or medium-sized business can use VoIP phone service hosted in the cloud to provide:
Savings on VoIP phone calls for businesses
Encrypted data exchanges for businesses
A centralized point of contact for all communications
Mobilized and more adaptable workforce
Excellent service for customers.
It is easier to keep customers happy with UCaaS-hosted VoIP since it offers a competitive business phone system and is quick to integrate.
Production will see a better improvement.
Increased Productivity
Cloud-based phone systems provide the freedom to manage contact center operations from any location having an internet connection. Productivity increases when there are no restrictions on where the individual can work. This means the business can operate around the clock teams don't have to be in one place.
With no need to worry about transporting heavy equipment, move as needed depending upon the business requirements.
Uncompromised business telephone system
When it comes to making and receiving phone calls, VoIP is an affordable and flexible option that improves both security and intelligibility. Large call centers can't function well without it.
Conclusion:
Businesses of all sizes may reap the benefits of VoIP. VITEL GLOBAL COMMUNICATIONS VoIP business phone solutions provide low-cost, reliable call management. There may not be enough time or money available to many small and medium-sized organizations for them to invest in traditional phone services. With a cloud-based VoIP phone system, small businesses may expand and enhance productivity without investing a fortune, unlike a traditional landline infrastructure.
Grow your business and maximize productivity with the industry's best business communication service.
For More Info or Book Your Free Demo Today Click here