Expert opinions on the future of Cloud Telephony
The popular Cloud-based business phone solution is preferred today for its advanced features at low costs. Also termed Unified Communication (UCaaS), cloud telephony unifies different communication systems and tools into a single online portal.
Cloud telephony features involve video calls, CRM, and internet-based calling in the first step. Besides, the most probable subscriber of cloud calling systems is businesses as they need a variety of other communication and PBX (Private Branch Exchange) tools following the footsteps of UCaaS (Unified Communication as a Service). Because it works only on the internet, cloud telephony makes it easier to handle and less expensive for businesses and provides excellent tools for team interaction and organization.
In previous years, cloud communication was able to drive many organizations, and they have entirely changed the client commitment experience for organizations with a one-stop arrangement.
Significance of cloud telephony:
Cloud telephony today is the primary requirement of every business. The future of customer engagement services is cloud telephony. Cloud telephony is slowly taking over the telemarketer and can make businesses conveniently overcome the challenges in customer engagement. Engaging customers often become a considerable issue for some of the market's biggest and most successful businesses.
The following are a few significant advantages of cloud telephony that are capable of leading future business trends:
Internet-based calling is a one-stop solution comprising every required communication tool. Cloud telephony is specially meant for Cloud business phone services which are built on internet protocols. The unified communication module integrates various ready-to-use communication channels on one platform.
Why is cloud calling most preferred?
The real unique selling proposition of cloud telephony is that it can facilitate quick and simple implementation in no time. Also, internet-based service supports installation and function even in the absence of cables and technicians.
Cloud telephony could save a lot of money compared to any other system. It can eliminate all the costs such as hardware, service, and additional hardware. Cloud is the most cost-effective PBX solution available to businesses.
It is important to know that cloud telephony is a dependable source for PBX solutions that provides enterprise business phone solutions of all sizes with the best customizable security.
Another crucial benefit of business phone solutions is scalability. This feature made cloud telephony the most dependable and inexpensive, enabling businesses to avoid mounting costs, installation, service, and physical labor.
Call Management Features:
Cloud telephony's advanced call management features with CRM integration help business teams avoid physical labor. There are many essential call management features, such as call recording, AI-enabled call management, ACD, IVR, call forwarding, video conferencing, etc.
The Future of Cloud Telephony:
Business phones are already being used by many businesses to improve their daily communication and coordination with customers, clients, and their internal teams.
Cloud communications can empower Startups. We are all aware of the fact that every year many new start-ups emerge. This affordable and flexible cloud system for business has brought a new revolution after the global pandemic. It is a hybrid work culture that enables people to work from anywhere in the world with the help of these advanced cloud-calling features. Cloud telephony is expected to give these start-ups more control over their operations.
Below are the immensely convincing features of cloud-based phones that support any business with its advanced features.
Cost Effective: Because funding for start-ups is limited
Scalability: Any number of lines can be taken with no requirement of additional hardware
Trustworthiness: There are no outages, technical issues
As a result, in the coming years, start-ups may rely on cloud telephony solutions as their primary means of communication.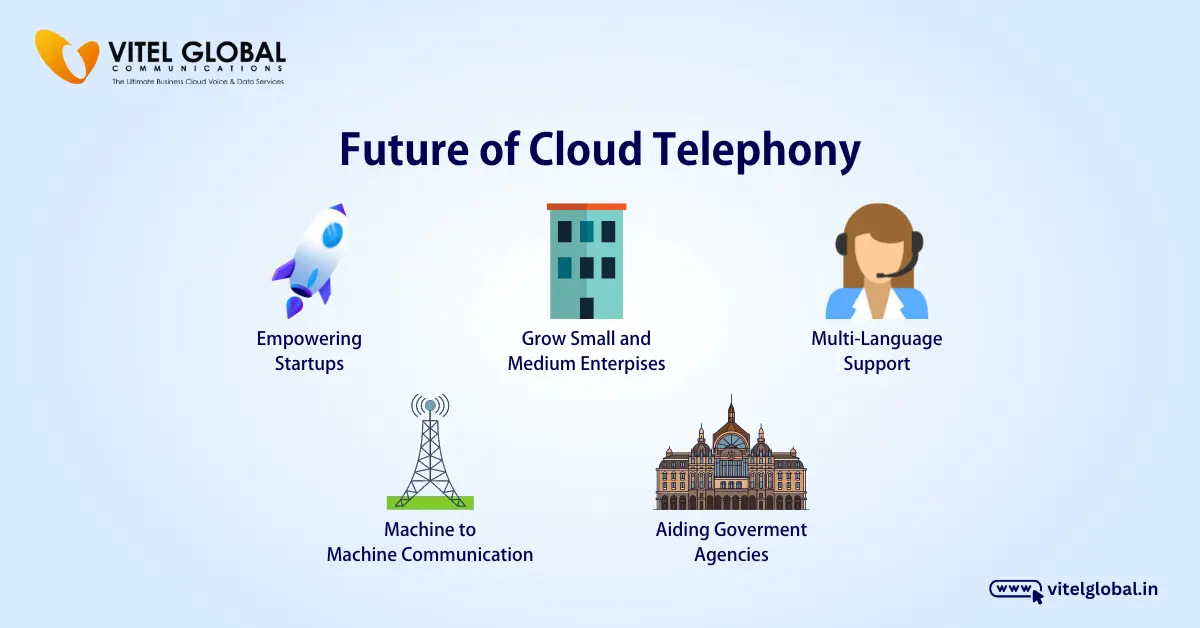 Talent Expansion:
Notice that it is the time of the great resignation, as we call it. Even retaining employees has become difficult for businesses. Now, this advanced calling system has brought a lot of opportunities for candidates everywhere. Youngsters are starting their new careers as freelancers. Because they see freedom in it. Meanwhile, things are not like they were in the past. Multiple factors prevent businesses from expanding their talent pool outside of their designated geographic boundaries. If they want to work with the candidates and if the person is somewhere in the world, then he/she is available to contact with no issue through internet calling absolutely free of cost.
As discussed, cloud communication can totally wipe out these issues. The only thing to do is to have an active internet connection because it works online.
Support for Cultural Diversity:
Today's digital tools can support multi-language, which is crucial for any company that is planning nationwide expansion. Businesses in the future can serve a diverse group of customers from any corner of the country and expand their operations with the help of a cloud-calling system.
With this digital transformation, the user experience is improved by intelligent cloud telephony calling features equipped with Artificial Intelligence capabilities. Suppose, an intelligent Interactive Voice Response system can greet and converse with customers in their language based on their location.
To handle these situations, ACD can automatically route the call to a regional language specialist through internet-based calling systems. This can assist the organization with business expansion along with enhancing the customer experience. Such an unbreakable network can increase customers' trust and satisfaction.
Help Government Agencies:
Cloud telephony solutions are very useful in assisting government agencies as well as businesses. As the government itself is a service sector, cloud telephony facilitates efficient and uninterrupted communication among various government departments. This ability of this advanced calling system can reduce the postponements of the government processes that need to happen as they deserve to execute.
Additionally, there is an additional benefit of cost-effectiveness with the use of cloud telephony solutions. It frees up capital so that it can be used for other purposes. Finally, internet telephony is the most reliable for citizens to communicate with the government or one another. Cloud telephony solutions are implemented even in remote areas where traditional systems encounter difficulties.
Conclusion:
Notice that we are already on the journey into the future, and cloud telephony will undoubtedly play a significant role there. Today and in the coming days, new businesses are not constrained by language or location as cloud telephony systems advance. It is of no discussion whether your business is a small, medium, or large-scale one. This digital evolution of communications makes perfect sense to adopt a cloud phone system.
If you are looking to switch to business phone solutions from the world's fastest-growing service provider.
Vitel Global India promises the highest uptime simple system administration and quick addition of new members from anywhere in the world. Additionally, all of your staff can connect easily regardless of the devices they each use. Why not request a demo today?