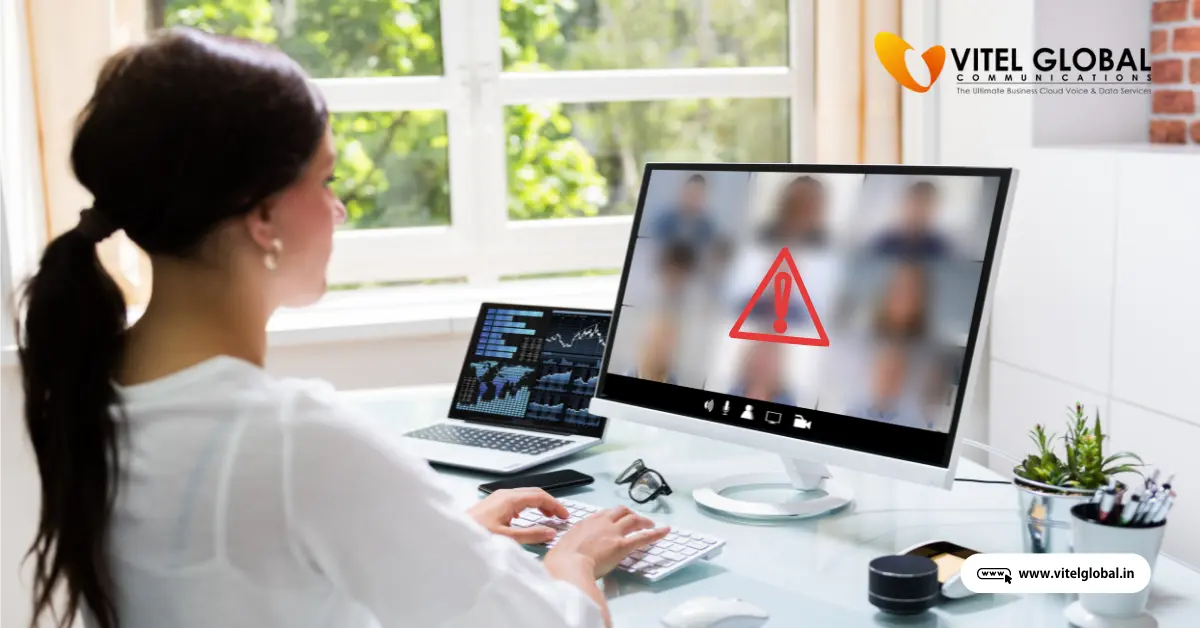 Without video conferencing problems, it is always great to communicate with anyone around the world with no geometrical limitations. Today's most preferred option to implement is via a virtual meeting. However, if you frequently encounter issues with a video call, it is a severe problem. 
If we discuss replacing ourselves as remote working employees, you must know that most online meetings begin late than the actual time. So this generally happens due to software issues or technical issues with Video Conferencing. Such a situation might be annoying and could be a waste of a significant amount of money and time. But video conferences are essential because they can create an economic impact with the rise of virtual meetings.
Why is it necessary to know about video conferencing and problem-solving?
In this blog, let us discuss some of the major problems that arise during a virtual meeting, the precautions to be taken, and how to troubleshoot video conferencing problems.
Today, the number of online meetings is more than ever before, and it is gradually increasing. By default, an average employee meets eight times per week, or there might be more online meetings if you are in a high-tech industry.
We must thank the collaborative workforce for the rapid expansion of virtual meetings. Addressing the subject, anyone who owns a phone line can attend a virtual meeting at home, on the road, or in a remote office.
Common Problems with video conferencing:
There are certain statements in the corporate world that a lot of sales professionals blame their web conferencing tools for making sales harder.
As a result, you will be attending too many meetings with no proper use of them! This scenario costs an approximate productive time loss of 3 hours each week. Just integrate this loss for a month and a year in total.
Now let's try to address the most common video conferencing issues and some information to troubleshoot them!
Equipment could be something that you must suspect! To work on this, you must have a little knowledge about how to Troubleshoot Hardware (related software issues too) Issues.
Check Your Equipment First:
Make sure that your staff has the appropriate equipment, and this is the first step in resolving such issues. We would like to inform you that noise cancellation equipment will be great and can make a big difference in reducing any audio disruptions caused (for example, background noises). Most of the time, the usage of uniform gadgets can reduce echoes. Everyone attending a video call must use a headset, earbuds, or the recommended microphone. To avoid call disruption, check all connections, including the camera and headset, and make sure that they are securely connected to their ports.
Some people who are techies tend to examine comprehensive system performance statistics for comprehensive video and audio problem resolution. In a team, a comprehensive system performance record is the ideal solution that can make things simple for IT staff.
First of all, check whether the software on your system is the most recent version and compatible with conferencing calls. While using a conferencing application, you might need to close some non-essential applications like open web pages and office applications.
Check for the Glitches in internet Accessibility:
For a video conference, the most reliable option is a wired connection anywhere you work. Check the internet signal strength and performance in the area where the video call will be held. It is necessary to check the signal if you use Wi-Fi.
To check the signal strength, try to watch a high-quality streaming video full screen, and the test is done (probably a YouTube video). Next, check the video and audio for smooth playback. Remember that the installed conferencing software might suffer if a one-way video does not work.
Problems with Video and Audio:
Not necessary to state that if the team cannot see or hear each other. then, think that the subscribed video conferencing solution is not fit for your company. The solution may become unusable if it disturbs the conference with system delays, audio echoes, or even due to very low volume.
What if you are connecting from the outdoors?
While conferencing with a portable device like a laptop or a mobile, you must check the connection, even if it is in the conference room. Because we never know what works in the room next to where you are meeting might not work in your conference room. So, it is essential to ensure that the connection is strong.
If your video call is essential, we suggest you conduct a test conference with another group member before you start to go live.
A Little Amendments in the Hardware:
Start moving your computer system closer to your Wi-Fi antenna to avoid connectivity issues. If your Wi-Fi system is on the first floor, and you work upstairs, you may need to purchase a secondary booster/extender system to extend the signal to your mobile device.
Bandwidth is Crucial:
If you are hosting a video call, then the foremost thing to do is to perform a speed test. Browse to find one of the numerous speed test websites to conduct a search. For your information, rates of download and upload are used as parameters to measure and know the internet speeds you want.
The necessity for the speed check is to determine the actual amount of working available bandwidth. It should be performed while others are using the Internet.
The next step is to see if the test results are too low! For instance, if you have limited resources, ensure that you are able to participate in a video call, and let other users take a break during your video call. Now upgrade your service, change the resolution of your video, or select audio only.
Network-Related Issues:
Everybody knows that bandwidth and network connectivity issues are the primary aspects that can make online video conferencing tough. Imagine choppy audio, freezing video, a screen sharing failure, and prolonged delays are some of the most obvious signs that confirm these problems.
Therefore, it is a good practice to check the bandwidth and speed requirements of the video conferencing solution. This can be a good place to start when attempting to fix network problems. After that, check to see if your internet connection can meet the requirements by inquiring about this with your provider (IT department if needed).
Please inquire with your IT professionals and check whether any of the cables, routers, or other types of equipment. This step can avoid network congestion. This knowledge comes in handy because these video conferencing issues are some of the most commonly encountered issues.
Functional Issues with the System:
In general, every system has its own problems, which are probably internal. While taking an important meeting or a crucial assignment, the recurrence of certain issues can stop using them. Such a situation seeks ongoing assistance from IT. This happens to diminish the benefits of video conferencing severely.
Remember to use the most recent version of the video conferencing software on all of your devices. Frequent software updates can fix flaws and prevent recurring issues.
We are here with a solution:
Looking for the best Cloud business phone service provider? Are you in search of customized VoIP Business solutions at affordable costs?
If you've experienced any of these common video conferencing problems you know how frustrating they can be. Especially for sales professionals who work so hard to get meetings in the first place!
VitelGlobal India promises the highest uptime simple system administration and quick addition of new members from anywhere in the world. Additionally, all of your staff can connect easily regardless of the devices they each use. Why not request a demo today?