The Use of Artificial Intelligence in Virtual Meetings
Hosting virtual meetings has become quite common in any organization after the pandemic. There are several factors why companies and employees prefer to host virtual meetings. But the demand for them has not reduced a bit for whatever reason. According to a few researchers, the need for these will only grow with the period.
In this digitized world, every service and solution is modernized. A few global trends also predict that modernizing business communications only benefits the organization. Henceforth, the scope for virtual calling, recording, meeting and several activities is exceedingly high. With the latest technological updates, there are solutions to every problem a company faces.
Business Communication X Artificial Intelligence
Until now, Artificial intelligence has always been a concept applied to things that provide quantifiable results. In today's world, AI is used in every sector possible as it simplifies our everyday activities of us human beings.
AI can perceive information in a way that interprets accurate results. This non-human application is designed in a way that it can access real-time data and keep us updated. It can generate or create information accordingly sometimes too. The uses and results of using artificial intelligence for any section of your company are impeccable.
In business communications, cognitive AI is used most. As the name implies, this type of AI consists of abilities like humans. It can read and analyze human speech, symbols, and languages. It performs various and numerous operations that make it simple and effective to use.
How AI Benefits Business Communications?
Artificial intelligence offers several use cases and benefits the business in many ways. In the communication department, the uses of it are numerous, apart from just virtual meetings. Almost all business phone solutions, unified communications, and IP phone services often use the internet as their primary focus. Here are a few alternative use cases where AI can add value:
Company Chatbots
Every company aims to have a perfect digital presence in today's market. A well-designed website is very important, but a design that enhances customer engagement is even more required. Using chatbots, you can solve the queries of your customers on a real-time basis. You can also pre-record the responses.
Marketing Communications
In the case of marketing communications, companies will have to deal with several inbound and outbound calls in a day. These features can reduce the time spent on handling all the calls individually. AI can help you schedule calls and ensure you are available to the public whenever needed.
Virtual Meetings
Since business phone solutions or unified communications revolutionized the corporate communications department, virtual meetings have become mandatory for any organization. Management prefers to host such meetings regularly to keep the employees updated and to stay updated.
Small businesses now realize the importance of virtual meetings, which is also an effective concept for them. Using UCaaS, employees can regularly connect through video conferencing. It provides an experience like a real-time one-on-one meeting. Employees can also access features like instant messaging or screen sharing, enabling them to give efficient presentations.
The Uses of AI in Virtual Meetings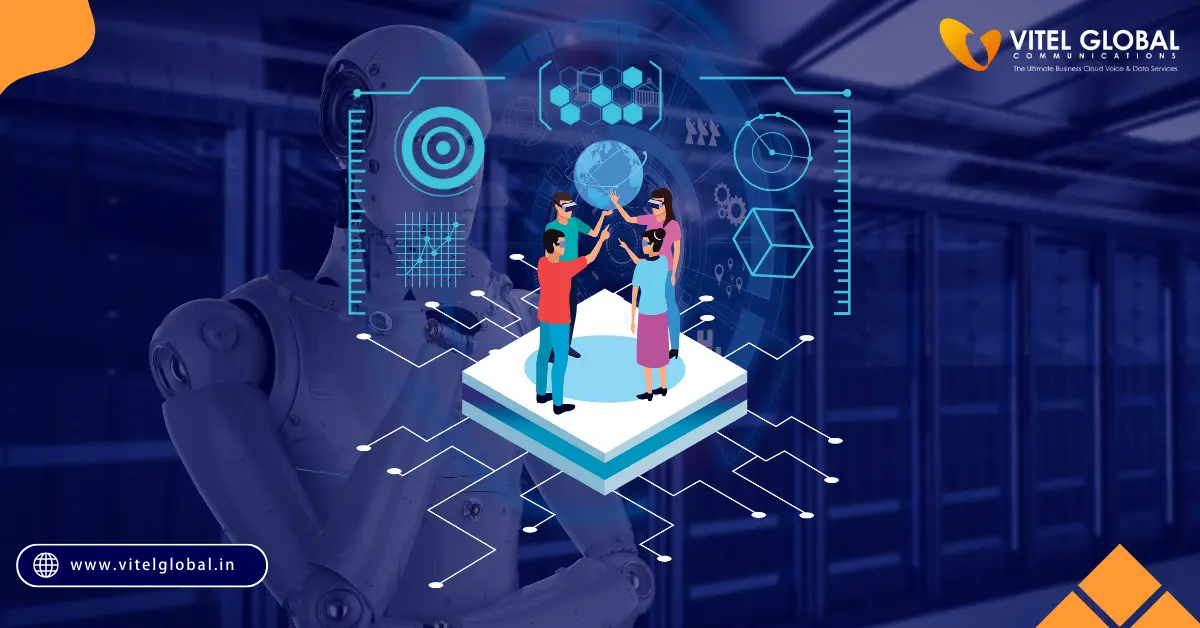 Using AI-developed applications for regular meetings will offer you certain features and flexibility. The advanced features of AI are extremely useful to any organization. All employees can easily access these, irrespective of their designations or qualifications. Here are some features that can improve your online meeting experience.
1. Video Conferencing
Artificial intelligence supports video conferencing in virtual meetings. It provides a real-time experience to the users while hosting any discussion or meeting. It does not compromise the call quality and enables many users to join a single call. Multiple users from distinct locations can join the call at once and participate in the discussion.
It helps generate a link, and forwarding it can invite people to join the meeting. It drives the call smoothly, and hence many companies prefer this. Virtual meetings can be a sign of improved productivity in the organization.
2. Instant Messaging
One of the most popular inventions made using AI is chatbots. The concept of chatbots is immensely popular and appealing to many companies. It is known that texting and messaging are important forms of business communication as they connect the audience with the companies correctly. How does it help during virtual meetings?
A similar concept is implied in virtual meeting applications as well. Meeting participants can be active on the call and still pass messages or texts in the chat section using AI. They can either text among themselves or can also send group messages.
3. Screen Sharing
During meetings or presentations, sharing documents will lead to exciting and informative conversations among the employees. Unified communications use AI to provide this feature where all the employees can look at one record at a time and stay connected. It makes meetings and presentations extremely effective.
AI also contributes to substituting real-life meetings where a blackboard is used to explain things. It helps keep all the employees on the same page and adds references. This feature is very popular as it can lead to successful client conversions or customer acquisitions.
4. Call Recording
The very own existence of AI began because it can read, record, and recognize. Any operation performed using AI will be automatically recorded for future purposes. Although this setting can be turned off, some information about your meetings will still be stored with AI. Most companies use it to record their regular calls for future purposes.
Recording calls or data is always helpful as it can be an excellent factor for making demanding decisions. In today's world, making data-driven decisions rather than just relying on trial-and-error work methods is very necessary.
5. Presentation of Data
As discussed earlier, AI can be used for recording, but another advantage is that it can also analyze the data and present it in the form of personalized dashboards. These dashboards consist of information collected earlier in charts, tables, flow diagrams, and many more. This way of presenting simplifies the understanding of data to the users.
Many companies prefer integrating CRM services with their unified communications to access all stored or collected information. Although the info is stored and compiled from various portals, it is all reflected in one dashboard, making it easier for the employees.
Conclusion
Artificial intelligence simplifies some of the most complex problems in the world. In this digital era, most companies face issues related to communication. Using artificial intelligence, solving those issues is now a lot easier. We all know the importance of business communication and how it influences employee productivity or customer relationships.
Speaking of business communications, hosting regular meetings, group discussions, and events plays a significant role. Ai now contributes to making virtual meetings a seamless experience for all employees. It offers various features to help employees switch to advanced virtual experiences. Henceforth, using AI can enhance the quality of your meetings and boost productivity.