What is VOIP Phone System?
Reading Time:
3
minutes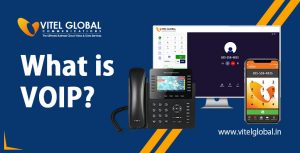 VoIP Introduction.
VOIP stands for voice-over internet protocol, which allows you to make phone calls using a computer network over the internet. VOIP technology compresses the sound waves or digitalize them into IP packets transmitted over the network.
There are many benefits gained by the organizations, residential or individual remote workers. A few of them are…
Cost-effective
Easy to setup
Highly accessible
Supports all platforms
Crystal clear voice
Supports multitasking
Supports any device.
Basic system components of VOIP:
The four most important VOIP components are…
Media gateway
Signaling gateway controller
Media server
Application server
1. Signalling gateway controller:
A signaling gateway controller (SGC) is also referred to as an agent as it controls the call function.
It is the heart of the VOIP platform as its main role is to connect to the public switched telephone network with the Internet protocol. The main characteristics of the signaling controller:
Supports SS 7 signaling system 7 protocol stack refers to the public switched telephone network main signaling protocols suit.
Supports voice call control protocols such as SIP general report your IP signaling protocols.
Supports media control protocols such as mg CP which is used for controlling BDA gateway session connections and parameters, hence it is called a media gateway controller because of its media gateway control function.
Generates call detailed records which are used for billing purposes.
Provides bandwidth management control which allows new sessions to be admitted into the system
Supports bandwidth policy mechanism which is used to media flow profiles and also preserves the appropriate quality of service levels. It helps to instruct the media gateway to monitor the RTP media flow.
Allocates connection characteristics, for example, coding and IP packaging used better media resources.
Allows multitasking and multiprocessing
2. Media gateway
The main role of the media gateway is to transmit the voice packets following the RTP transmission protocol used for convergence of public switched telephone networks or IP networks such as packetization transmitted over the network.
Transmits data over the Internet
Controls call flows under the observation of the media gateway controller
Supports transferring voice in SF 7 networks
Supports different compression algorithms
Supports and manages digital signal processing resources.
Available for maintaining redundant IP link
3. Media server:
A media server is used for video conferencing or voicemail and also for special tones or announcements that need to be transmitted over the internet. The main functions are…
Voicemail functionality
Transmissions of tones
Voicemail to email transmission
Activates voice dialling
Supports IVR
The main server is controlled by an application server using SIP protocol routing toward the media gateway existing.
4. Application server:
The application server provides value-added services to the IP network and also calls specifications, and characteristics are also evaluated.
Supports customization in private dialling plans.
Second, basic services such as call forward, call forward on busy, call waiting, call transfer, call park, and voicemail are offered by the application server.
Advanced features such as call authorization using PIN, remote office, and "follow me" plans are offered.
Delivers CDR's call detailed records
The Application Server is the brain of the VoIP architecture.
It communicates with the Signalling Gateway Controller through protocols such as H.323 or SIP.

Published: September 15th, 2021
Subscribe to Our Newsletter
Get monthly product and feature updates, the latest industry news, and more!
By submitting this form, you agree we may contact you in the manner described in our Privacy Policy.