It is possible to make phone calls using VoIP (Voice over Internet Protocol), a well-established technology. Since the emergence of broadband, It has become the standard phone service method for both individuals and companies.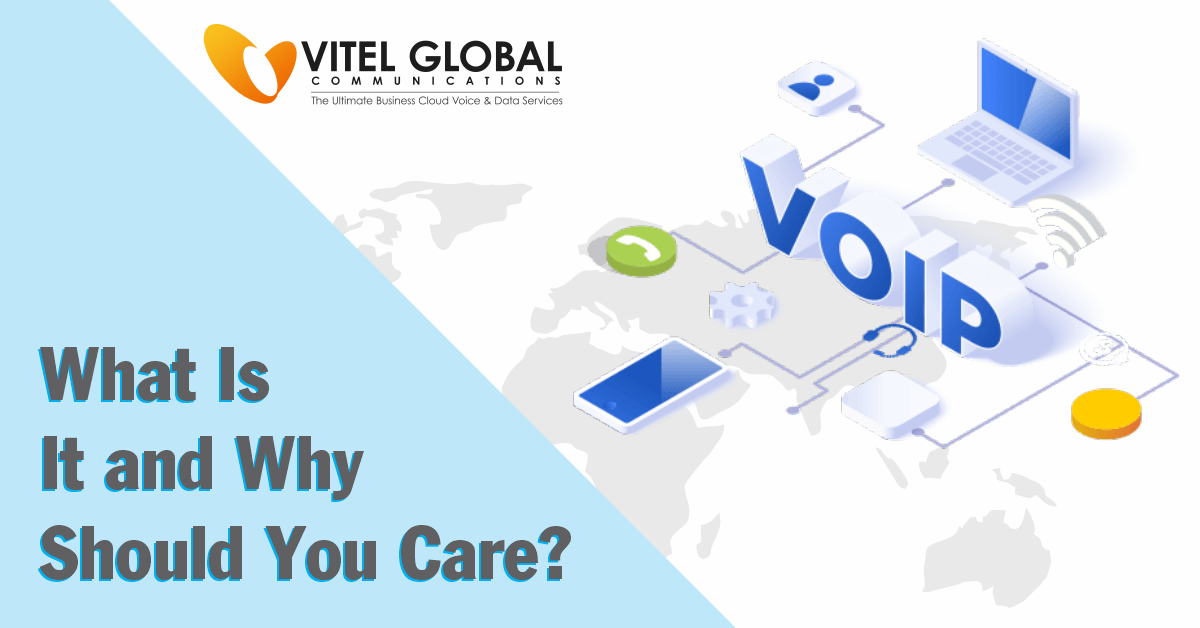 VoIP phone service is more popular than traditional landlines since it offers better call quality. Why? It has a far more comprehensive range of features than traditional analogue phones. And it does it all at a fraction of the price.
Cloud phone service providers offer powerful capabilities that aren't available with traditional phone service. It includes call recording, caller ID customization, voicemail to email, and more. In addition, you'll be able to answer calls and work from anywhere.
This tutorial has been updated to provide more information on Voice over Internet Protocol (VoIP). Everything you need to know about VoIP phone service will be covered here.
What is VoIP and how does it work?
Calls made and received via the Internet are known as VoIP, which stands for Voice over Internet Protocol. In the minds of many, It represents a viable alternative to traditional landlines.
It's your Internet Protocol Address (IP Address). Computers and other devices use Internet Protocol (IP) addresses to interact with one other.
VoIP isn't new technology at all. Since the late 1990s, telephone calls have been transported through digital lines. With VoIP, you may make unlimited phone calls at a low cost.
In other words, how does this affect you?
Using VoIP, you may continue using your current internet connection.
You don't need a local phone service if you have an internet connection. Because they are based on decades of open standards, VoIP systems may be used on any computer.
Providers of VoIP services do more than just set up phone conversations. They use current telephone networks to route outgoing and incoming calls. The Public Switched Telephone Network (PSTN) is necessary for both landlines and mobile phones (PSTN).
Voice signals are sent through analogue lines in traditional telephones. A wired connection is required if you want to make phone calls. 
For phone service, many companies require specific gear. A Private Branch Exchange (PBE) type of this equipment (PBX). It links the public telephone network to the company's internal phone extensions. Setting up and maintaining a PBX may be pretty expensive.
There is a superior alternative.
The most popular corporate VoIP phone system is available for a free trial right now.
Advanced calling options can be yours at a fraction of the cost.
It's Your Decision.
Everything may be taken care of by a reputable VoIP service provider. It is as simple as plugging in the IP Phones. Digital phones connect to the Internet through a high-speed internet connection.
According to FCC data and a Microsoft visualization, 93.5 percent of Americans have access to high-speed Internet.
Your phone calls are converted into data and sent over the Internet via VoIP. If your Wi-Fi network is powerful enough, you may be able to do without the Ethernet wires altogether. It accomplishes this at a fraction of the expense of traditional phone networks. When compared to a regular landline, VoIP offers a slew of benefits. We'll talk about it later.
How is VoIP implemented?
Internet Protocol, one of the foundational tenets of the Internet, is used by VoIP. The century-old telecommunications system has been transformed by IP telephony.
Small data packets are used to exchange information while on a call. They'll arrive at their destination just one second after they've been sent. When you use internet telephony, these packets are sent between your phone and a VoIP provider.
In a VoIP phone system, calls can be made between phones or another phone service provider. In addition to voicemail, call forwarding, call recording, and other essential features, it also has many other features.
The following is an explanation of how it works in four easy stages.
One of the first things you need to do is ensure your phone is connected to your router or switch (LAN).
Second, your IP phone instructs your VoIP service provider to call the other party whenever you dial a phone number from your IP phone's display.
If you're using a VoIP service, your IP phone will initiate the call and transmit data packets.
Your VoIP phone translates these digital signals into the sound you can hear.
Voice over Internet Protocol eliminates the need for a traditional landline phone provider. VoIP may be used everywhere a high-speed internet connection is available. From an analogue phone system, it's a significant upgrade.
VoIP used to need expensive, proprietary equipment, but that was 20 years ago! Session Initiation Protocol (SIP) is a widely used open VoIP (SIP) standard. SIP allows desk phones, conference phones, and VoIP apps to all work together seamlessly.
Voicemail, conference calls, and call routing are all handled by cloud-based PBXs. It's like having your own phone company that you can control.
To gain the benefits of VoIP, you only need a broadband internet connection (cable, DSL, or fibre).
The advantages and disadvantages of VoIP
When evaluating to make phone calls via VoIP, it's essential to weigh the benefits and drawbacks. This article will examine the advantages and disadvantages of using voice over IP.
VoIP's Many Advantages
More affordable – Many consumers and companies have seen significant savings and a 60 percent reduction in their phone expenses.
There is a clear change in call quality, so the audio isn't muffled or distorted. • High-quality sound
Auto attendants, call recording, and call queuing are just a few of the advanced options at your disposal. In many cases, they're a part of standard corporate phone plans.
Use your phone service from any location to work remotely. If you work from home, there is no need for a complicated computer setup.
For international long-distance calls, you can pay as little as $0.04 per minute to Mexico or $0.01 per minute to the United Kingdom, depending on your location.
VoIP has its drawbacks.
A high-speed Internet connection is required for VoIP to perform properly. For each phone line, you'll need at least 100 kbps (0.1 Mbps) in bandwidth.
If you need to contact 911 from a VoIP phone, you must provide the operator with your proper location. • Emergency services limit Your company's postal address is automatically sent to public safety operators via voice-over IP systems. • Makes analogue phones obsolete – Voice over IP employs modern technology that does not rely on analogue signals. You'll probably wish to replace your old cell phone. You may find out how to acquire a free VoIP phone by following our advice later.
Is using VoIP simple?
True to its name, VoIP is a simple way to make regular phone calls for both personal and professional purposes. You can make phone calls over the Internet if you have a functional internet connection.
Unlike proprietary programmes like Skype or WhatsApp, you can call any phone number, limiting your options. For example, you may call AT&T, Verizon, and T-Mobile customers using your VoIP subscription. Aside from the enhanced call quality, they won't notice anything different.
You don't need to know anything technical to set it up. To utilize VoIP, you must put in a power wire and a network cable to your phone. Use this step-by-step tutorial to get your business phone service up and running.
Using your VoIP phone service on your iPhone or Android is much more convenient. Download a free VoIP software and sign in to begin making calls over the Internet.
How much does it cost to make and receive phone calls via the Internet?
With all the features it has, VoIP is surprisingly affordable. VoIP services cost around $35 per user per month on a per-user basis. Compared to a standard phone system or an on-premises PBX, the cost reductions are substantial.
To summarise, we highly advise you to request a free quote to confirm the specific VoIP cost in your region.
For the best in VoIP phone system functionality, check out the following.
What are some appealing characteristics of a cloud-based telephone system for offices? The following are the most common VoIP features those businesses will appreciate.
It's up to you to decide how important these features are to your business.
In-car service
You may project a professional image with a phone menu that welcomes incoming callers. Auto attendants can be accessed by dialing either 1 for sales or 2 for support when contacting a business.
An auto attendant aids you in guiding incoming phone calls to the appropriate department or individual. During non-business hours, calls can be routed to your voicemail or another number.
 Desktop and mobile applications
You won't miss a call because you're out of the office using cloud communications. Several VoIP service providers currently offer apps for computers and mobile devices.
More than ever, your staff needs a VoIP solution to operate remotely. Make phone conversations, participate in teleconferences and more using these applications.
You don't need a separate desk phone to utilize these telecoms applications. It's up to you.
quality of the HD calls
Asking callers to repeat what they have just said is one of the most irritating things you can do. The sound quality of your phone conversations will be improved thanks to HD Voice. Using this VoIP technology, phone calls sound two times as clear as they do on the regular phone.
Many VoIP headsets and phones have noise-cancelling technology for a richer audio experience. Even in long-distance conversations, the high-definition sound clarity is audible.
 Integrated Communications
Your team's productivity is boosted by the notion of Unified Communications via VoIP (UC). Your company's communications platform is fully integrated rather than utilizing various separate apps.
Connecting with consumers and co-workers has never been so simple. Switching calls across mobile devices is also an option.
It's easier for your employees to finish their work when they collaborate using video and screen-sharing technology. For real-time communication to be effective, it must be simple and coordinated.
The following are some of the essential features of a UC system:
Team chats, video conferencing, screen-sharing, conference calls, and mobile applications are all included in this list
 VoIP security and call encryption
Businesses are concerned about the security of their VoIP systems. Credit card numbers and HR talks are just two examples of the kinds of private information that may be exchanged over the phone. If you don't take care of these assets, you might end yourself paying the price.
VoIP remains safe and secure even while data packets travel across the Internet. Security measures in IP phone systems prevent malicious actors from listening in on your calls.
Inquire about call encryption when you sign up for a VoIP service. TLS and SRTP, two popular VoIP security protocols, encrypt and scramble data during transmission, making listening virtually impossible.
Consider whether a VoIP service is accredited and fulfils industry requirements before signing up. When deciding on a business phone service, a needs list comes in helpful.
Is the company accredited (PCI, SOC 2, ISO/IEC 27001)? • What is their security policy?
Do they have any data centres?
What is the VoIP service's uptime?
Is the IP telephony they offer HIPAA-compliant?
Do you have access to call history in real-time?
Related: VoIP Security and Call Encryption: A Comprehensive Examination
 You may record a phone call.
Use your phone system to record phone calls made by clients to your staff members. If so, how well is your staff managing phone calls?
Using your phone system to record calls exposes areas where your team may improve. The data is encrypted, so only authorized users may access it.
One of the benefits of VoIP call recording is that it is completely undetected by all parties involved. Unlike traditional landline PBX systems, it does not need any additional gear. It's time to say goodbye to cassette tapes!
Related: 40+ Essential VoIP Features Your Company Can't Live Without
Is a VoIP phone necessary for my purposes?
VOIP means that ordinary phone handsets won't operate as-is. Retrofitting your current phones or purchasing new IP phones will necessitate the usage of a specific adaptor.
VoIP desk phones are not only affordable but they may even be obtained for free. You may not even require an IP phone if you always have a cell phone or computer nearby.
If you are considering switching to VoIP, you should keep a few things in mind. A few are detailed below:
1) Do you have a flexible schedule?
Over time, many businesses have come to accept telecommuting as a viable option. To operate remotely, you have to deal with a wide range of LAN settings.
For a desk phone, the reasons are apparent. A desk phone is an obvious choice for voice calls because it's easy to use and works. Employees have an always-on telephone with no further settings required.
A softphone can get your staff up and running in minutes if they're good at using software programmes. You can provide them with your login information.
There is no immediate need for a desk phone, but for necessary employees, it is an excellent workplace appliance.
2) Are there any analogue phones that are a must-have?
Traditional telephones may be replaced with inexpensive IP phones at any time. However, some people have been using the same fax machine or phone for years and are happy with it.
You'll need an Analog Telephone Adapter if you want to utilize an analogue phone with VoIP (ATA). These are simple to use and are pretty easy to understand how they work. To deliver digital data via the Internet, these older devices have been retrofitted.
Related: What Exactly Is a VoIP Phone, and How Does It Operate?
3) Is VoIP Reliable or not?
When VoIP was first introduced, call quality was erratic. It was typical for phone calls to drop and for there to be delays. VoIP call quality has improved considerably as internet capacity has expanded.
VoIP phone calls sound better than those made on a landline. However, your internet service provider will have an impact on this. The SIP protocol itself supports error-correction protocols like TCP and UDP. It's up to you.
Calls can be sent to a cell phone if you are not accessible, thanks to cloud PBX. When the power goes out, you'll still be able to access the Internet, thanks to this backup.
Emergency services can be contacted by dialing 911.
If you call 911, no one may know where you are. It would be best if you informed them. A VoIP phone cannot complete a call if your internet connection is disrupted.
The Federal Communications Commission (FCC) offers advice on making emergency VoIP calls in the United States.
Each user's E911 location should be updated based on where they do their work. Use their home address, for example, if they work from home.
Finding a VoIP service that meets your needs might be challenging.
Commercial phone systems boost your business's reputation and reliability. On the other hand, not every supplier is the same. Consider your company's particular demands before deciding on a business phone service.
You'll need to decide on your company's goals before settling on a phone plan. Think about what you need now, shortly, and in the future.
Your present and future demands should be assessed
The number of incoming calls, the current state of resources and personnel; the availability of voice over IP; and the necessity for video conferencing.
Determine which VoIP plan is best for you based on the number of calls you get. An ideal virtual phone system can be a fantastic fit for your business, especially if you have a crew devoted to making cold calls or providing customer service. Think about scalability to ensure that your small firm can develop without problems.
Have a meeting with your team to determine the must-have characteristics. There is a good chance that most free VoIP services will fall short.
Ensure that your phone system is ready for the future.
The best option for remote teams is Vitel Global.
Take Note of This
Advice on how to pick the best VoIP service, provider
As soon as you have a clear picture of your VoIP needs and budget, search for a service provider that can expand with you. Consider the feedback from previous customers, the availability of live support, and the documentation available to you.
VoIP phone service providers should have the following qualities:
Reliability, compatibility and 24/7 support are just a few benefits you'll enjoy when signing up for a cloud computing service from AWS.
Typical customers from a related industry
When speaking with a VoIP service, inquire about any current promotions. An accessible business VoIP phone or a substantial discount may be available to you, depending on your level of commitment.
VoIP has an obvious advantage over traditional landlines for the majority of consumers. VoIP provides the most acceptable value, cost savings, and most valuable features on the market today.
You won't even remember your old phone service when you move to VoIP. Your company phone expense might be reduced by as much as 65%.
The Ultimate Guide to Buying a VoIP Phone System for Your Business
Grow your business and maximize productivity with the industry's best business communication service.
For more details, visit our website and start creating wonders in your organization right away.
For More Info or Book Your Free Demo Today click here