How Can a Multi-Line Phone System Help Small Businesses?
Reading Time:
5
minutes
What Is A Multi-Line Phone System?
A multi-line business phone system is a type of phone system that allows multiple phone lines to connect to a single device or system. Also, this enables businesses to manage incoming and outgoing calls more efficiently and effectively. This phone system readily provides features such as call transfer, hold, conference calling and many more, including voicemail, call forwarding, caller ID, and more.
Types of Multi-Line Phone Systems Available In the Market:
There are several types of multi-line business phone systems, including:
Private Branch Exchange (PBX) Systems: A PBX is a traditional on-premises phone system that uses a dedicated hardware device to manage multiple phone lines and features. In general, these are maintained by an expert team of IT staff. Also, this is comparatively expensive.
Key Telephone Systems (KTS): A KTS is a less complex on-premises phone system and it typically supports up to 40 lines and is often used by small businesses.
Voice over Internet Protocol (VoIP) Systems: VoIP system uses the internet to transmit voice calls and can be hosted on-premises or in the cloud terminals. It is most commonly known as a Cloud PBX.
Virtual Phone Systems: A virtual phone system uses the internet to provide phone services and is hosted in the cloud.
Hybrid Phone Systems: A hybrid phone system combines the features of traditional on-premises PBX systems with the flexibility of cloud-based VoIP systems. These types are complex but can help a business to be efficient and productive.
How Do Multi-Line Business Phones Work?
As already said, multi-line business phones connect multiple phone lines to a single device or system. The phone system rings on all connected lines when a call comes in. Then, users can answer the call on any line, and the other lines will stop ringing.
Multi-line phone systems can be either analogue or digital. And they may use traditional on-premises hardware or cloud-based systems. In either case, the system will typically include a call management interface, such as a PBX or VoIP system. These call management systems allow users to manage incoming and outgoing calls, transfer calls between lines, place callers on hold, and more.
In addition to handling multiple lines, multi-line business phones may include various features to help businesses manage calls more efficiently and provide better customer service.
How Many Phone Lines Does a Business Need?
The number of phone lines a business needs depends on its size, the nature of its operations, and the volume of incoming and outgoing calls it handles. Small businesses with few employees may only need one or two phone lines. But it is different in the case of larger businesses with many employees and high call volumes that may require dozens or even hundreds of phone lines. Therefore, we suggest you consult a reliable and trustworthy telecommunications specialist to determine the specific number of phone lines your business requires to operate effectively and efficiently.
What are the Essential Features of a Multi-Line Business Phone System?
The features a business needs in a multi-line phone system will depend on its specific needs and the nature of its operations. However, some commonly desired features include:
Call waiting: allows the user to receive another call while on an active call.
Caller ID: This feature displays the caller's phone number or name on the screen before answering the call, and you can see who is calling you. It works in two ways. Caller ID can show the caller's phone number, and caller ID with name, which shows both the caller's name and phone number. Hence, using this feature, you can distinguish between important and spam calls.
Call Forwarding: You can use it to route incoming calls to any other phone number or internet-connected gadget. Calls can be intelligently routed to your voicemail, workplace, or personal cell phone based on your business needs.
Voicemail: Your callers can leave a message when the user is unavailable. And it will reflect in the user's mail inbox.
Conference Calling: It allows multiple parties to be on the same call. An audio/video call conferencing feature is a great asset for business phone systems.
Call Transfer: The user can transfer a call to another phone number using this feature. In practical business usage, it is possible for internal call forwarding to an outside number or another employee in the office.
Auto-attendant: A recorded message gives callers options to navigate the phone system. An auto attendant greets callers. It also gives them access to an extensive directory concerning their issue. Since it is a sophisticated feature, your phone system plan must include it.
Intercom: Now, you can make internal calls to other users on the same phone system.
Hold Music: You can engage your callers by playing music or a recorded message while on hold.
Headset Compatibility: This simple feature allows users to use a hands-free headset with the phone system.
Benefits of a Multi-Line Phone System for Business:
Any business can avail of several benefits from using a multi-line phone system for businesses; some of the most common and essential benefits are below: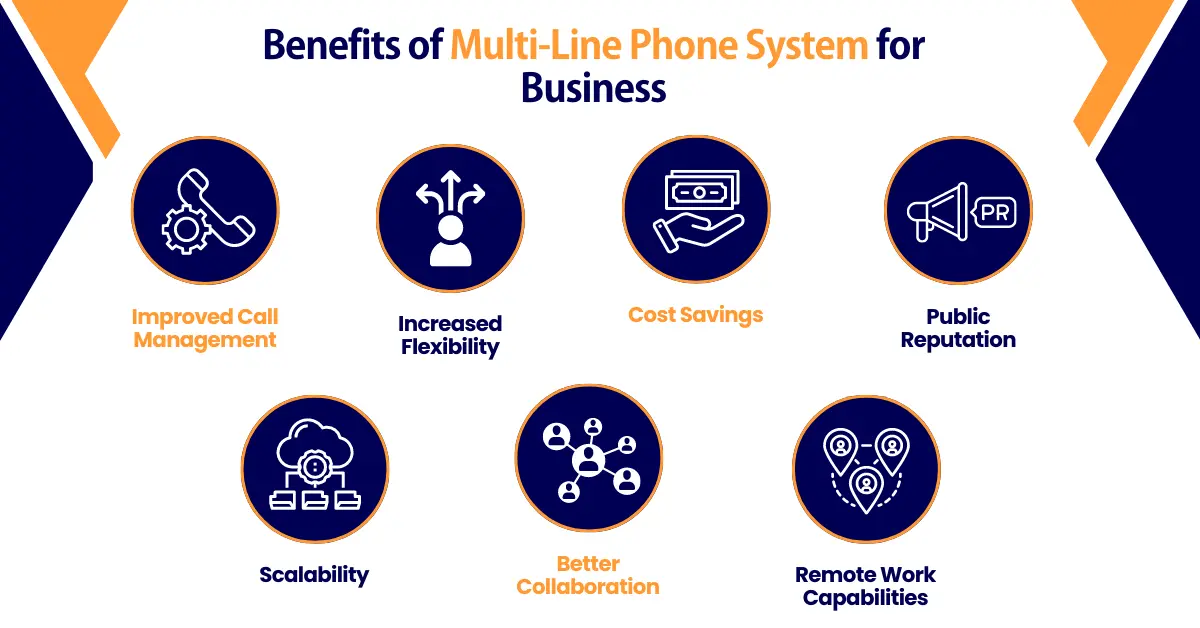 Improved Call Management:
A multi-line phone system can allow businesses to manage multiple incoming and outgoing calls more efficiently. By this, a company reduces hold times and improves customer service.
Increased Flexibility:
Various features such as call forwarding, voicemail, and conferencing are associated with today's business phone systems. Now, you have greater flexibility while dealing with businesses and your employees.
Cost Savings:
Are you looking for a cost-effective solution than using individual phone lines for each employee? Then, you can share it among multiple users leading to less investment.
Public Reputation:
A multi-line phone system can help create a more professional image for a business. So, it is a better idea to provide sophisticated features such as auto-attendants and music on hold.
Scalability:
With a business phone system, you can easily scale up or down as your business grows or changes. It is a flexible solution for businesses of all sizes.
Better Collaboration:
Today's cloud-based phone systems can enable better employee collaboration by allowing for easy transfer of calls and conferencing capabilities. In addition, your team can transfer, share and edit a file while on a conference call.
Remote Work Capabilities:
Understand that many multi-line phone systems are cloud-based. Hence, these allow employees to work remotely while still having access to the same phone system as their in-office counterparts.
Conclusion:
To conclude, a VoIP or cloud-based phone system is the primary substitute for the multi-line phone system. All the data and the call details are available in the cloud because these systems work on the internet.
However, they operate online, require little to no physical gear, and are typically very cost-effective. Also, they do need a robust, reliable internet connection. They are simply scalable, so you can increase the quantity as your business expands. Unfortunately, cloud-based phone systems will not be the correct choice if you do not have a fast and steady internet connection. Know more about cloud-based business phone solutions.
Published: February 13th, 2023
Subscribe to Our Newsletter
Get monthly product and feature updates, the latest industry news, and more!
By submitting this form, you agree we may contact you in the manner described in our Privacy Policy.