Why Cloud PBX Is the New Frontier for Businesses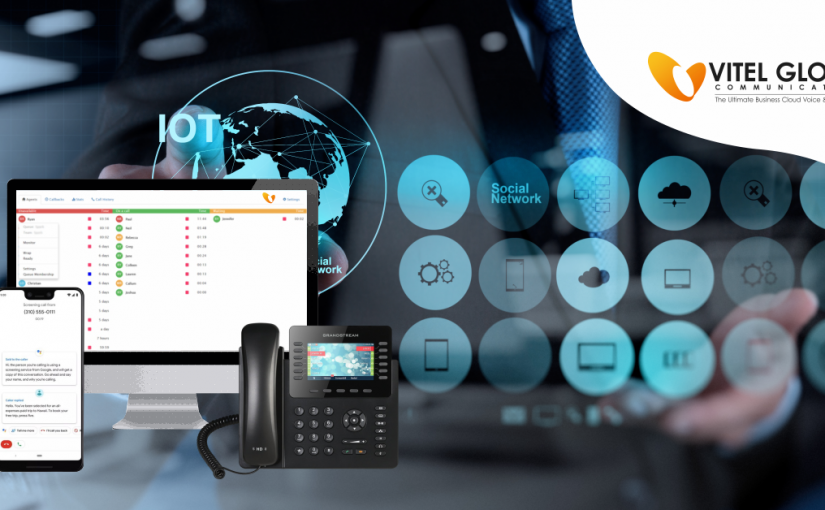 Reading Time: 4 minutes
Cloud PBX: Why Business Need It
Businesses are looking for new ways to cut costs and improve their business model. Some of the newer cost-cutting options, like cloud PBX, are sound investments that could help businesses become more efficient and find new revenue streams. Here's why a Cloud PBX System is a future for your business!
The Benefits of Cloud PBX System
A cloud PBX is a telecommunications platform that allows users to make and receive calls from anywhere in the world, with no phone line needed. A cloud PBX system includes increased efficiency, flexibility, security, and cost savings. 
Here are some of the specific benefits of using a cloud PBX System:
1. Increased Efficiency. Cloud PBXs allow businesses to reduce the number of phone lines they need by allowing call routing through the internet. This can save businesses money on phone costs and infrastructure costs related to installing and maintaining phone lines.
2. Flexibility. Cloud PBXs allow businesses to change phone numbers and contact settings anytime without reconfiguring or rebuilding their system. This flexibility can be beneficial for businesses constantly evolving their operations or customers requiring different contact information than previously.
3. Security. Cloud System provides enhanced security features, such as password-protected access and secure calling over SSL connections. These features can help protect businesses against cyberattacks and other forms of data theft.
4. Cost Savings. It helps businesses reduce their overall expenses by eliminating the need for expensive
What Does a Cloud PBX System Do?
Cloud PBX System allows businesses to make and receive phone calls worldwide, regardless of location. They also offer features that traditional PBX systems do not, such as call routing and automatic attendant activation. Cloud PBX is an excellent way for businesses to increase efficiency and communication within their organization.
Disadvantages of Cloud PBX System
Cloud PBX System has been around for some time, and many businesses are starting to adopt it as the new communication standard. However, there are a few things to be aware of before making the switch. The following are some of the disadvantages of using cloud Systems.
1. Security: One of the main disadvantages of cloud Systems is that they are not as secure as traditional telephone systems. The data and calls are sent over the internet, making them vulnerable to cyberattacks.
 In addition, there is no way to protect the system from intruders physically.
2. Cost: A significant disadvantage of using a cloud system is that it can be expensive. This is because you will need to pay for the services the cloud service provider provides and any additional software or hardware you may need to use effectively. A cloud service may not be the best option if you want to save money on your phone system.
3. Scalability: Another disadvantage of using a cloud service is that it can be difficult to scale it up.
The Advantages of Cloud PBX Service
Cloud PBX services are quickly becoming the new frontier for businesses. Here are some of the advantages they offer:
1. Increased Efficiency: It allows businesses to take advantage of the latest technology without worrying about installing and managing it themselves. This is especially important for businesses that operate in highly competitive markets, where time is an essential resource.
2. Enhanced Security: Cloud System keeps your phone lines and data safe by encrypting them at all times. You can rest assured that your calls and data are protected from prying eyes.
3. Improved Customer Service: Cloud Service allows you to manage customer service from a centralized location easily. This makes it easier for you to promptly respond to customer inquiries and complaints.
4. Reduced Costs: Cloud Service can dramatically reduce the costs associated with telecommunications services by allowing you to outsource specific tasks such as call routing and voicemail management.
5. Greater Flexibility: It allows you to customize your system to meet your specific needs, giving you greater flexibility when operating your business.
Conclusion
Cloud services have been gaining popularity as an alternative to traditional landline telephone systems for businesses. Cloud systems let businesses take advantage of VoIP technology's benefits without installing and maintaining a physical phone system. It allows businesses to make and receive calls using a web browser, phone app, or voice assistant.
Cloud Systems give businesses several critical advantages over traditional landline telephone systems. Cloud Services are cost-effective, allowing businesses to avoid the high costs associated with installing and maintaining a physical phone system. It allows businesses to make and receive calls from anywhere worldwide. Businesses can access their call logs and voicemail from any device or computer.
While Cloud Systems offer many advantages over traditional telephone systems, some disadvantages are worth considering when selecting a system. Cloud systems are not as secure as traditional telephone systems. Businesses should consider whether they need a cloud-based system's level of security before deciding. Additionally, Cloud services require an Internet connection to work correctly, which can be an obstacle for businesses located in rural areas or those with limited access to broadband service.
Grow your business and maximize productivity with the industry's best business communication service.
For More Info or Book Your Free Demo Today click here
Published: June 16th, 2022