Business Phone System: Top 5 Desk Phone Features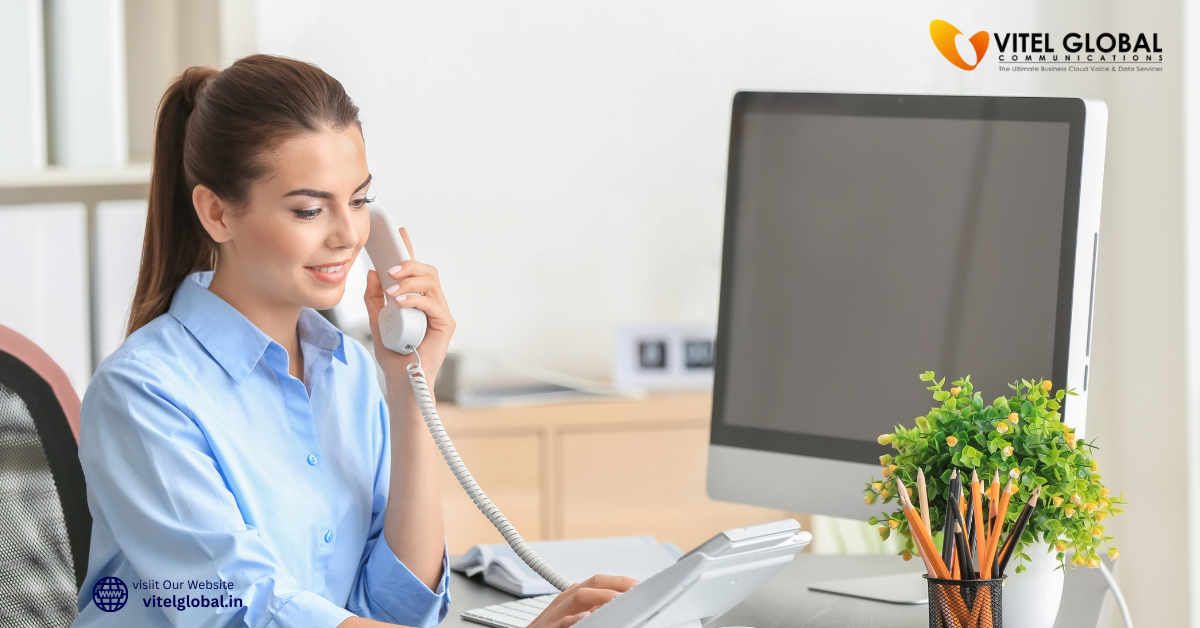 Reading Time: 5 minutes
In order to make a business conversion, sales representatives must contact potential customers. If you want to keep business operations running smoothly, managers must interact with team members in person or remotely and the whole team should be active. And, the one-stop solution for this is the cloud-based business phone system. Companies must interact with customers to assist and troubleshoot. Simple, this list is endless.
In the age of this advanced digital technology, we all know that both large and small businesses have made investments in Cloud phone systems that revolutionized business communication. However, what exactly should a desk phone have? What features are essential to your company?
In this blog, we'll go over our top 5 business phone system features that support your internal and external communications running smoothly and effectively even in uncertain times.
Audio and Video Call Conferencing: 
While in business operations, there will always be certain situations in which you will need to communicate with multiple people to complete a task or to close a deal.
In the business world, attending meetings is a common as well as an essential point. However, having a video conference call on a cloud desk phone can help you avoid lengthy in-person meetings.
Naturally, you need to decide if your business phone system needs basic conferencing features such as three-way calling or call recording. In addition, more advanced ones support more than three participants, video conferencing, and so on.
Hence, you should have a conferencing system that is easy to use and intuitive. You don't want to miss an important call.
An audio/video conferencing feature makes it easier than ever to ensure that everyone is on the same page that regards significant business issues and saves a lot of time.
Voicemail Transcription:
If you are a small business owner, you must be strapped for time or resources. Then, the Voicemail to email transcription feature is a huge time saver for you.
In fact, the majority of employees on the office floor can do more important things than sitting and listening to voicemails. Additionally, it is time-consuming to hear a lot of long, unclear, or garbled voicemails.
Voicemail-to-email transcription is an alternative to dealing with a high volume of voicemails every day. You can read instead of listening.
In case, the voicemail isn't urgent or important. Then, you can skip to the end with this transcription and get the call-back number right away.
Additionally, voicemail-to-email transcription simplifies the task for you to schedule a time each day to review your messages. Also, you can assign any important task or urgency to them.
Few things can compare to voicemail to email transcription for your small business phone system in terms of time management and efficiency.
Interactive Voice Response (IVR):
For businesses of all sizes, if you want to ensure customer satisfaction, the auto-attendant feature – interactive voice response or IVR is an invaluable asset.
In the same way, a virtual receptionist does the job of an auto-attendant such as taking customer calls, screening them, and sending questions to the right departments. It also helps answer common user questions.
When a customer uses IVR, it presents him with a menu of options from an auto-attendant, such as customer service, Technical support, and sales.
Here, a particular number corresponds to each option. Auto-attendants can also list extensions for specific members of your company.
It is a self-service feature of auto-attendants and yet another powerful feature. Before escalating a call to a live support agent, some customer issues can be resolved just by your IVR.
Suppose, your clients frequently call to inquire about the status of an order or the tracking number. If this is the case, your auto-attendant could be pre-coded to answer the customer's question without ever having to move him to another department. It pulls the relevant data from your database system to answer the question.
Because it can add value to basic help desk scenarios. This self-service portal is especially beneficial for the tasks of the customer-facing, external product support desk for customers. Besides, it works as an internal IT help desk for employees too.
IVR improves the efficiency of any company and can be significantly working as a virtual receptionist. Also, it allows you and your staff to concentrate on the most pressing customer service issues.
Blocking Spam and Robocalls:
Spam and telemarketing robocalls are very common today. They can be annoying and trouble your personal life. However, if you are the owner of a small business (your team is working from home), they can quickly become a time-consuming distraction. These spam calls can divert your attention from important business tasks and valued customers.
So, if you activate the telemarketer block feature, it detects the robocalls automatically on the first ring. After that, it hangs up and blocks the number right away.
Yet, there is a wide range of desktop and mobile applications and programs that handle spam calls. However, once the feature is integrated into your cloud-based desk phone, you will experience even greater tranquillity.
Softphone Apps:
A softphone, also known as a virtual phone. It is a computer program or application package that lets you make calls over the Internet. It may actually come pre-installed with your cloud-based business phone solution. With your business phone system, you basically have two options for calling a landline or some other non-virtual phone. 
You can make calls using a SIP (Session Initiation Protocol) phone and businesses usually connect to the IP phone network of your company. Your softphone can be used to make and receive calls (audio and video calls are enabled with the call recording feature).
Furthermore, it enables you to bypass communication over the traditional data network when necessary. Cloud-based business phones with a softphone option on hand may prove to be of great assistance. Besides, softphones are typically easier to set up and install when compared to hardware. However, it is important to understand that their cost is significantly lower than that of a SIP phone.
In addition, softphone apps are usable on desktop computers, mobile phones, tablets, and mobile phones. You will do your business operations as long as there is an internet connection!
Conclusion:
There are numerous other features that help businesses with a seamless working environment. But, the aforementioned top 5 features of a desk phone are very essential for efficient internal/external communication.
Vitel Global is one of the best and most knowledgeable telecom providers and we ensure your company with the best phone system. 
Our technical experts constantly work on discovering affordable technology solutions for businesses of all sizes. So, whether you run a large law firm or a small restaurant, we are here to assist you and your staff in maintaining productivity and sustaining your company's success. 
Contact us right away and find out more about our products and service with regard to business phone systems. We're here to help you win more business by providing cutting-edge business phone solutions
Vitel Global India is a Cloud-based phone solution that is best in class and includes fully secured, cross-channel communication. It enables your agents to seamlessly shift support interactions from one channel to the next. See how it works to learn how Vitel Global India can help you to choose the right communication. Why not request a free demo today?
Published: January 16th, 2023