A Complete Guide to VoIP API Integration and its Importance
Reading Time:
4
minutes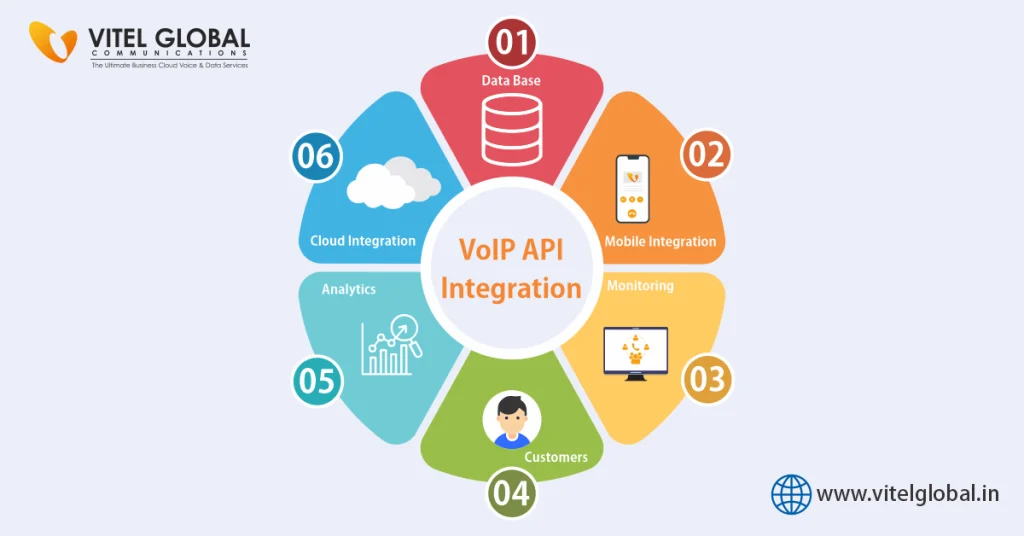 What is API integration?
An API is a type of interface that makes it easier for two or more software programs to interact and communicate with one another. The term "API Integration" describes this frictionless interconnection that enables businesses to boost data sharing and integration across multiple apps and systems as well as automate business operations.
The development team created VOIP integrations or VOIP API to connect users' apps to any object, network, or location around the globe. It enables seamless integration of all VOIP features with the system's current files. 
Technically speaking, API integration is a connecting point that enables data interchange between any organization's two or more apps.
Example:
When you connect your mobile application to the internet, the API is implemented explicitly when data is sent to a server. The server acknowledges the receiving side's request and provides the appropriate response.
The principal advantages of API integration are: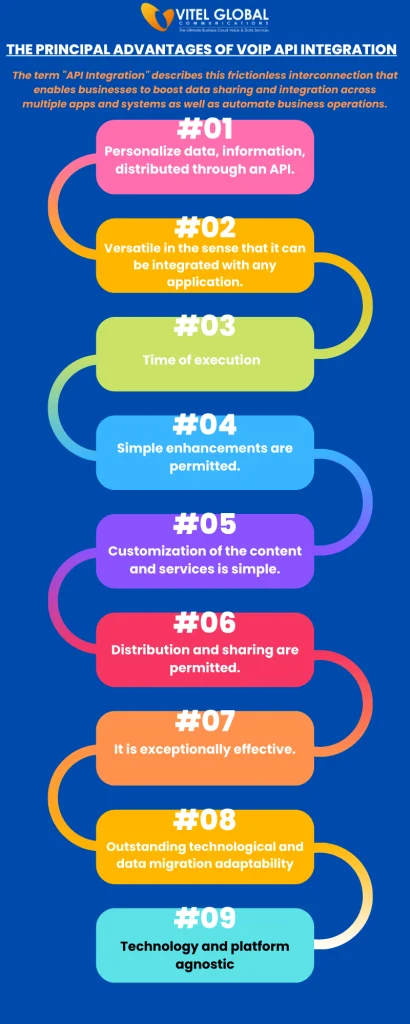 Personalized data, information, or services are distributed through an API.
 Versatile in the sense that it can be integrated with any application.
 Time of execution
 Productive
 Simple enhancements are permitted.
 Customization of the content and services is simple.
 Distribution and sharing are permitted.
 It is exceptionally effective.
 High automation
 Outstanding technological and data migration adaptability
 Time management
 Cost-effectiveness
 Technology and platform agnostic
 very secure.
 Applications are simple to use.
 Used in travel and hotel bookings
API implementation:
Cloud-based API applications.
Cloud API interfaces are increasingly the norm for tying together cloud apps. A common example of antiquated integration technology exists in the on-premise period and fails to enable current API access outside of the firewall. The platform that connects all of these clouds need not stay within your firewall because the focus of apps has changed to the cloud. Simply said, in order to link the new cloud APIs of today, an API integration platform was born in the cloud.
It is simpler to use an API integration platform than to manage each API separately.
By employing more manual API creation techniques, developers or other IT staff members in the organization will still be responsible for monitoring and maintaining the API, even if the API itself was established by a third party. Keeping track of all the installed APIs may be a taxing and time-consuming task when API usage soars.
However, API integration solutions may greatly lessen this administrative load. The administration, security, and overview procedures are made simpler by API integration solutions since they act as a single point of access for all installed and generated APIs.
Businesses and Providers:
Businesses frequently have nowhere to turn for assistance with self-made or third-party APIs. Outside parties' APIs could provide user manuals and documentation.
Providers of API integration platforms frequently have specialists on staff to consult as necessary. This kind of assistance can significantly increase the likelihood that a company will maximize its use of all APIs and other IT assets.
Reorient your Workforce More Strategically:
Companies that manually create APIs must then hire a team of developers and other IT personnel to get everything up and running. Similarly to this, company departments without clear, connected stacks sometimes employ personnel just to manage one or two apps.
With an API integration platform in place, the developers can focus their efforts on other strategic initiatives (such as developing new revenue-generating apps). And need fewer people to maintain productivity across all departments.
Create New Apps:
Many well-known apps are made up of pre-existing technology. APIs allowed for a novel method to package them.
Teams may easily expose current integrations as APIs or microservices to launch new apps by swiftly connecting different technologies using an API integration platform.
VOICE API
It is a system that allows voice calling to integrate with programs in order to place, answer, and manage high-definition calls.
It enables hands-free calling.
Access mobile browsers or apps.
Make phone calls to any number.
Several enhanced features.
Makes it simple to connect with the sales or support teams.
By modifying the mobile dialler feature, it easily connects with the traditional phone number.
Create conference call plans.
High-definition quality calls
There are a few significant distinctions to take into account in the process of selecting the best available API service provider, even if the procedure may seem similar to hiring a consultant for any other company function. These elements consist of
• Experience with Software Integration Platforms – A lot of integration service providers specialize in a particular platform that offers either cloud-based integration or embedded integration. Good service providers have an extensive history of implementing digital strategies within a business (including professional certification). The company's leadership and personnel can more easily embrace a particular software integration platform. Thanks to this expertise and experience!
• Support on an ongoing basis integrating an API into a business is a complex process that needs constant modification and improvement. Although many systems for API connection provide real-time modification, certain organizations need further follow-up due to hardware changes or the integration of new gear, such as mobile devices or upgraded desktops or laptops. Many API integration service providers follow up often. They offer help at times of technical difficulties. This allows organizations to concentrate on internal operations and address possible problems.
• Since industries like manufacturing, supply chain management, and logistics use a variety of software applications, you need business expertise to manage complex workflows. A supplier of API integration services with knowledge of the unique problems facing your industry can guarantee effective installation and execution of integrating software APIs.
Project Management:
API integration for every organization involves three essential elements. A clear grasp of the business environment, a clear vision for the end result, and a profound familiarity with the systems and data structure of the company. 
An expert in API integration services should have project management abilities to manage such a difficult and involved procedure. The right integration service provider will have the ability and technical know-how to support and propel the project through completion regardless of the project management approach.
Our top service provider, Vitel Global Communications, offers the greatest VOIP services, exhibiting fantastic goods with more than 60 features and concentrating on each individual client or customer with exceptional services.
Grow your business and 𝒎𝒂𝒙𝒊𝒎𝒊𝒛𝒆 𝒑𝒓𝒐𝒅𝒖𝒄𝒕𝒊𝒗𝒊𝒕𝒚 with the industry's best business communication service.
For more details, visit our website and start creating wonders in your organization right away.
For More Info or Book Your Free Demo Today click here
Published: August 15th, 2022
Subscribe to Our Newsletter
Get monthly product and feature updates, the latest industry news, and more!
By submitting this form, you agree we may contact you in the manner described in our Privacy Policy.