Finding Your Perfect Business Phone Service Provider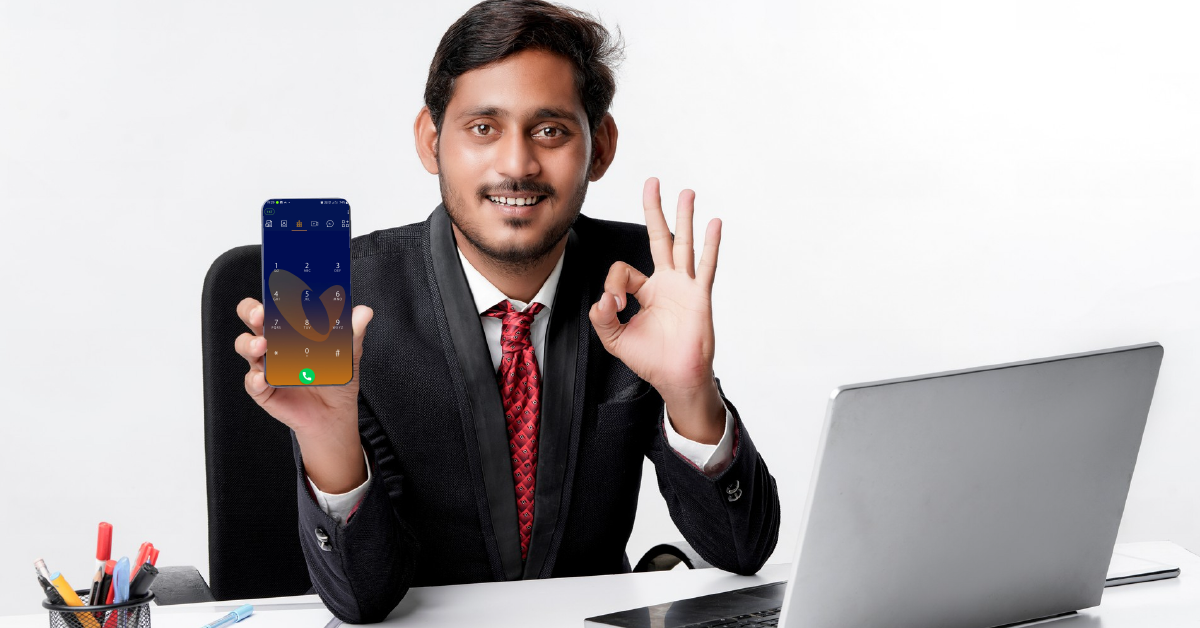 Reading Time:
5
minutes
The key to success is clear communication. Choosing a business phone service provider can significantly impact your operations, customer service, and overall efficiency, whether you're a small startup or a major organization. Making an informed decision is crucial because there are many options available. This blog will walk you through locating the ideal business phone service provider to satisfy your particular requirements.
What is a Business Phone Service?
A Business Phone Service, also known as a Business Phone System or Business Phone Solution, is a communication service tailored for organizations and enterprises to manage their phone calls efficiently and effectively. Technology has enabled several businesses to shift their phone systems to the cloud. Voice over Internet Protocol, or VoIP as its abbreviation is known, is what they are currently employing.
Instead of using conventional phone lines for call routing, this phone system leverages the Internet. The phone system then establishes a Wi-Fi, cellular, or Ethernet cable connection to the Internet. As long as you have dependable Internet, you may now make all your calls, local or international.
Businesses choose VoIP systems over conventional landlines for various reasons, including cost. Since they use the current internet connection, your business won't require additional assistance or an internal IT team to ensure a proper connection.
You won't have to pay for landline-related expenses like call forwarding, call queuing, extension dialing, Conference Bridge, and music on hold. The VoIP system includes more sophisticated features without charging extra.
How Can You Determine Your Company's Calling System?
It is critical to have a clear knowledge of the communication demands of your firm before diving into the providers. Please take into account the following:
Size of Your Team: Are you a small group of individuals or a big company with numerous departments?
Call Volume: What number of calls do you anticipate fielding each day?
International Calling: Will you frequently need to make calls abroad?
Scalability: Do you anticipate a quick expansion of your company?
Budget: How much money have you set aside for a phone system?
You can navigate the selection process by using a well-defined list of needs as a compass.
Explaining the Different Types of Business Phone Systems?
Various business phone systems are available. Here is a quick rundown:
Traditional Landlines
"Landlines" refers to traditional phone systems, which a local or regional provider frequently services. Public switched telephone networks (PSTNs), analogue systems that utilize the telephone company's standard copper cable, are also known as traditional landlines. Private branch exchange (PBX) hardware must be on the premises to run a landline service. Many extensions can be built using this hardware, which also provides phone system services like call transferring and call directories. Some landline systems are now thought to be hybrids with VoIP networks. A conventional phone line connects each phone to the company's data network. It could be challenging to locate a business that still offers this kind of service, given that many phone system providers have discontinued landline systems.
Voice over IP (VoIP)
VoIP phone systems replace the copper cables that landlines run on with a company's internet connection. Previously exclusively available to large enterprises with expensive PBX gear, cloud telephony solutions offer capabilities like automated attendants, call queues, and computer integration, allowing voicemails to be forwarded to email inboxes and PCs to be used as softphones. VoIP solutions allow distant workers to access the company's phone system via their mobile devices.
Cloud-Based Systems
Cloud telephony offers scalability, flexibility, and accessibility from anywhere because they are housed in the cloud. The cloud makes it simple for expanding enterprises to add new service lines and provides quick access to new capabilities. With cloud-based solutions, the only hardware that needs maintenance is phones. The service provider upgrades maintains, and houses your PBX equipment. Typically, a monthly fee based on the user count is paid by businesses. Hardware for PBXs or dial-tone services doesn't need to be purchased or kept up-to-date. Your provider will take care of everything. You may configure and personalize the system for your business from your computer.
Your firm's unique requirements and financial limitations heavily influence the decision between these alternatives.
What to Look For in Business Phone Systems?
Several features from the perfect business phone service provider should be available to improve your communication ability. Take into account the following characteristics and how they fit your needs:
Reliability and Uptime
Customers may lose opportunities and become irate if your phone system is down. Consider their dependability and uptime promises when evaluating services. Choose service providers with a history of minimizing service outages and reliable backup systems.
Scalability
Your phone system should expand along with your company. Pick a service provider that provides scalable solutions to meet your changing needs. Scalability ensures you stay within your phone system and spend money on extra capacity.
Pricing and Cost Transparency
The cost of a phone system might vary greatly. Therefore, it's important to comprehend what business phone plans will cost. Providers may offer pay-as-you-go pricing plans or pricing based on the number of users. So, to get the greatest deal for your budget, check quotations from different suppliers and ask about hidden costs.
Customer Support and Service Level Agreements (SLAs)
When problems develop, responsive customer service is essential. To make sure a provider guarantees service quality and prompt issue resolution, look into the reputation of their customer support team and ask about their Service Level Agreements (SLAs).
Security and Compliance
It is crucial to protect your communication data. Ask providers about their security procedures and whether they adhere to rules unique to your sector, such as HIPAA for healthcare firms.
User-Friendly Interface
For efficiency and ease of use, a user interface must be clear. Look for vendors who offer user-friendly systems to save training time and increase productivity.
Integration with Existing Systems
Integrating your phone system with currently used programs and technologies can frequently increase efficiency. The degree to which a provider's system can be integrated with your CRM program and other crucial programs should be considered.
Reviews and Testimonials
Refrain from believing what the provider says. Look for customer reviews and endorsements to learn more about a company's reputation and performance. Check reviews on unaffiliated websites to confirm reliability.
Contract Terms and Exit Strategy
Finally, thoroughly read the contract conditions to prevent unpleasant surprises later. Consider what might transpire if you decided to change service providers, including any consequences or difficulties that might arise.
How to Pick the Best Business Phone Service Provider?
When selecting a business phone system for your organization, you should consider the numerous factors listed below:
Pricing: Ensure the phone system's pricing is within your budget before purchasing it. Otherwise, it will negatively affect your ROI. It would be beneficial to locate a platform with a free trial. It will provide you with the opportunity to try the platform before committing.
Rich in features: Make sure the company phone system you choose offers every necessary feature, such as call recording, call forwarding, plug-and-play integrations, etc.
Customized: Your phone system should be modified to fit your demands in terms of both company operations and use cases. Take your time personalizing the platform once you've subscribed.
Scalability: Employment will always rise; no organization will remain the same. It calls for your phone system to be flexible enough to accommodate any amount of employees without breaking the bank.
Learning curve: Even for brand-new staff, using the phone system should be straightforward. So, you can avoid paying for training sessions and workshops you do not require.
Conclusion
In conclusion, it's important to carefully analyze your organization's specific demands and the features provided by various providers before selecting the best business phone service provider. Before making a choice, do extensive study, get advice, and evaluate your possibilities. Any successful organization depends on effective communication, and choosing the appropriate phone service provider can make all the difference in realizing your objectives.
Choosing the best business phone service for your company's needs might be difficult, but with some investigation and careful thought, you can choose an affordable phone service that satisfies your needs and is within your price range.
Published: September 27th, 2023
Subscribe to Our Newsletter
Get monthly product and feature updates, the latest industry news, and more!
By submitting this form, you agree we may contact you in the manner described in our Privacy Policy.