How CRM Integration with Cloud Phone Services Improves Real Estate Business Operations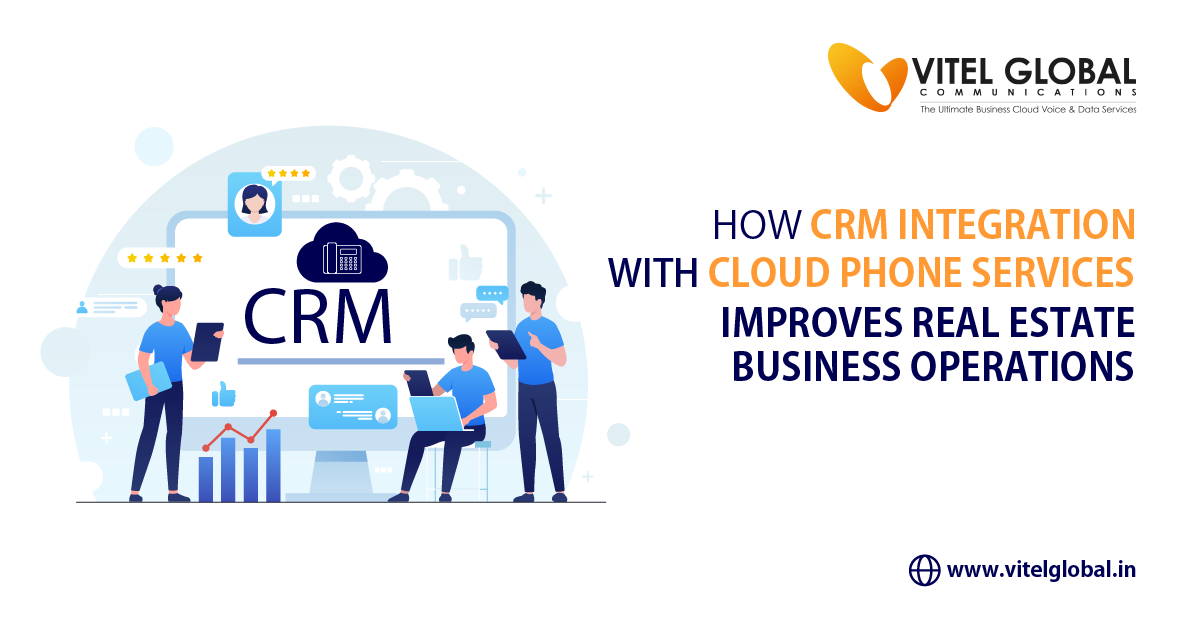 Reading Time:
4
minutes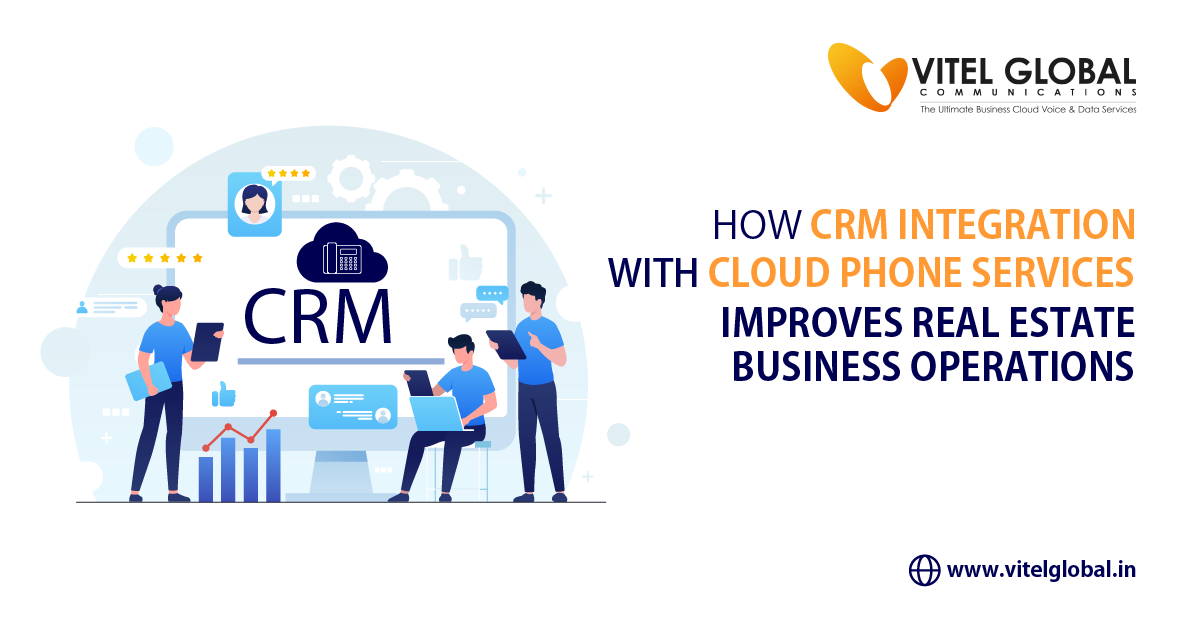 This blog post will focus on how CRM integration with cloud phone services improves real estate business operations by differentiating between geographical and non-geographical data and how it solves this problem for any company.
Many real estate businesses still use the dated CRM system, which is limited to geography. It means that a company with multiple offices cannot effectively use its system between them.
If you have a real estate business, you know how important it is to be on the cutting edge of technology. Marketers always look for new and improved ways to engage with their consumers. Integrating cloud phone services offers many benefits for those in real estate, including better customer service and increased productivity. Luckily, customers are already taking advantage of this benefit — so don't be too late getting in on the action!
If you need to familiarize yourself with Customer integration with cloud phone services, your business can conduct telephone calls through your existing contact database while recording your interactions for future reference or analysis.
Customer Service Improvement
Let's start with customer service since this is one of the most significant benefits. One thing every client wants from a real estate agent is the ability to contact their agent when they need it. You can give your clients this ability by integrating your contact database into the cloud phone service for real estate agents.
What are the Challenges?
Real estate (as well as financial, medical, and many other types of businesses) needs help to keep information up-to-date. It is the case for two reasons. Integrating CRM with business phone systems allows different departments to work together even when they are located in various cities and states. The other is that information about clients is often spread across several systems, disconnecting their data from the primary system. It makes it harder to get a holistic view of how your company stands with each client and whether you must always take any actions with them.
Also, since landed properties companies have to run multiple systems (one for each client), there's always a chance that information can be lost or data cannot be transferred back and forth from one system to another.
 How CRM Works for landholdings
Integrating cloud phone systems can improve customer communications for real estate agents. It enhances the revenue stream through quick and efficient contacts.
It can help improve the business operations of an agent in three ways one for calling customers, one for running telemarketing campaigns, and one for lead generation and marketing communication. All three applications help them use time and resources and enable better contact management.
How Does Integration with Cloud Phone Services Solve this Problem?
Many other industries have solved these issues by switching to an integrated CRM solution or having separate systems communicate through a cloud-based solution. Companies still need help to integrate these kinds of solutions. Instead, they must build their own on their existing local system or switch entirely to an integrated cloud phone solution.
Even though many solutions require a certain level of integration with cloud phone services, there are still a lot of them that still need to. Most companies need to be more capable of doing that themselves. Many of them require the assistance of a custom integration or development company to make it happen.
Moreover, even if an organization can do this themselves, they still need to integrate it with all their other systems with the necessary level of precision. In this case, a custom integration or development project is the only solution.
How Should a Real Estate Company that Needs Customer Integration with Cloud Phone Services Proceed?
First, determine if your Customer Relationship Management system can integrate with some cloud phone services. There are many different kinds, so you'll have to decide which ones are compatible with yours and proceed.
If your system can't integrate with a particular service, you'll need to find one that can. The easiest way to do this is by searching through CRM solutions with built-in integrations.
You can also integrate it or use one of the many services offering custom cloud phone integration. You'll have to evaluate all the available options in this case, so make sure to consider all of your options carefully before making a decision.
Once you've done that, it's time for the implementation stage. It is where you'll need technical assistance from a custom development or integration company for it to work correctly. With this in mind, ensure you get the best integration with cloud phone services for your money.
Once you've done all that, you can start using your mobile phone to access all the information in your software. It includes viewing sales leads, other client contact information, and their contact details. You'll also get access to essential features such as scheduling appointments and sending text messages.
Advantages of Integration 
In addition to the examples, a cloud phone system can be used to build a Customer Relationship.
An integration system for a landed property agency helps you to maintain your important client data and thus enables you to maintain their trust and business.
Performing Time-Saving Tasks
CRM integration with cloud phone helps them reduce their workload by speeding up their daily tasks. For example, they had to take down phone messages during business hours. But after integration, they can forward all calls directly to voicemail or check messages online no matter what time it is, which saves them time and energy.
Inbound and Outbound Calling
Cloud business phone services help them manage incoming and outgoing calls without distractions. They can improve productivity because they don't worry about missing an important call.
VoIP services enable effective business call management by facilitating remote business meetings over the phone. In addition, they can screen every call before picking up to decide whether or not to attend the call. It helps them save time during business hours as they don't have to pick up calls that are not essential for the moment.
Conclusion
Why not if you still need to start using CRM integration with cloud phone services? The benefits are too great to miss out on any longer.
Customer Integration with cloud phone services has transformed the real estate business. With this software, you can call or text prospective customers and generate leads. Cloud telephony services are available on a fixed-cost subscription basis, so they're cheaper than your regular phone line, even if you don't use the technology to its full potential. With your dedicated phone number, receptionists can answer calls and send them directly to you or another staff member.
As with anything digital, staying up-to-date is the only way to ensure you get a good deal. In telephony, identifying optimal and cost-effective services for your setup is crucial and time-sensitive. To understand what the competition offers regarding integrated cloud telephony services.
Published: June 9th, 2023
Subscribe to Our Newsletter
Get monthly product and feature updates, the latest industry news, and more!
By submitting this form, you agree we may contact you in the manner described in our Privacy Policy.