10 Top Reputation Management Examples for Small Businesses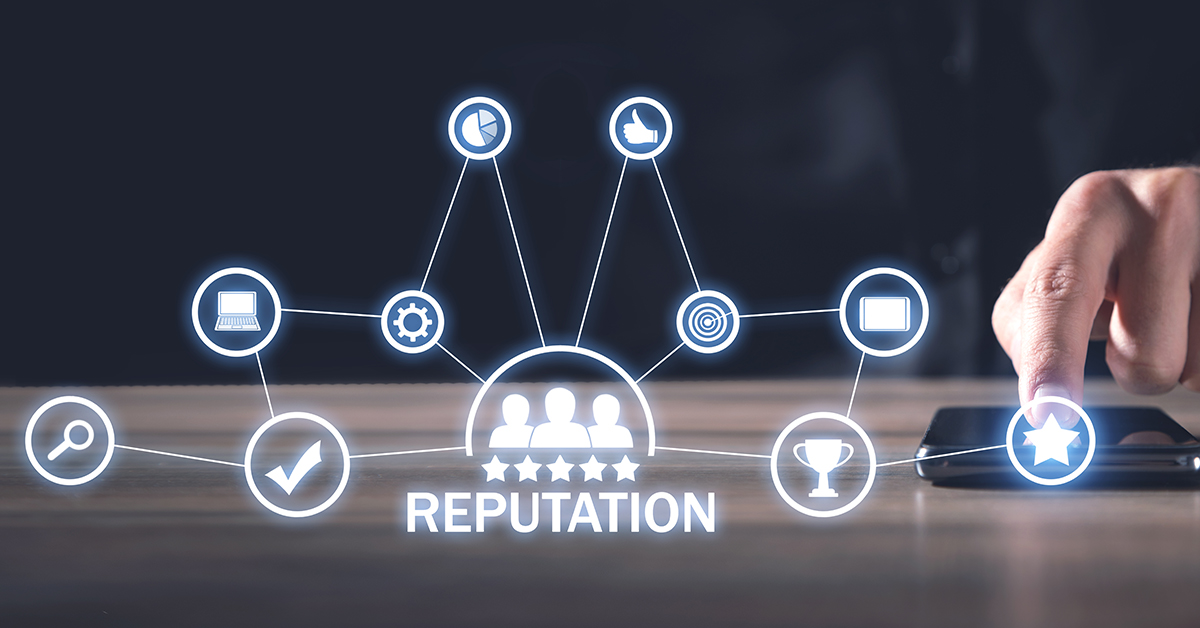 Reading Time: 3 minutes
Negative comments about a business can now more efficiently harm its internet reputation management than ever before. Before these problems escalate and begin to negatively impact a company's prospects, such as losing clients or potential customers opting for another brand due to negative feedback, businesses need a reliable method for handling them.
Though often overlooked, managing your online reputation is essential for the success of your organization. This blog will discuss tried-and-true techniques for online reputation management that can help safeguard your company and brand.
What is Online Reputation Management?
Online reputation management is the process of restoring your internet presence to ensure it presents a favorable impression. Online reviews wield significant influence and can profoundly affect people's decisions regarding their choice of business or brand. If misinformation leads them astray, it can have serious consequences for your personal and professional reputation.
In digital marketing, companies manage their online presence and enhance customer perceptions. They employ strategies such as transparency, responsibility, and data security to ensure their online presence remains positive and secure.
Benefits Involved?
Online reputation management is also referred to as rep management, impression management, brand perception, image management, and ORM (Online Reputation Management) in digital marketing.
As a business owner, integrating internet technologies into your marketing operations is crucial when aiming to expand your company and increase offline revenue. To fully appreciate the significance of online reputation management, invest in your web marketing strategies by acquiring the necessary tools and allocating sufficient resources.
Let's delve into the importance of managing a brand's reputation for a company:
By doing so, you can create a more significant impression and become more prominent on networking sites.
Reputation Management Examples for Small Businesses
Here are ten excellent instances of reputation management from which small businesses can learn:
Online Monitoring for a Small Retail Store: Small retail stores can use online monitoring technologies to track brand mentions on social media and review websites. The company values consumer feedback by promptly responding to positive and negative comments.
Engaging in Social Media Regularly: Small businesses should regularly engage in social media to share user-generated content, respond to comments, and showcase positive customer experiences.
Real-time Customer Support for E-commerce: Small e-commerce businesses can provide real-time customer support on their websites using live chat or chatbots. Swiftly addressing consumer concerns can mitigate negative press and enhance customer satisfaction.
Yelp Reviews for Local Establishments: Online review platforms play a significant role for small establishments. Positive ratings on websites like Yelp can help counter criticism and attract new customers.
Prompt Handling of Negative Feedback: Addressing negative feedback professionally and constructively is essential. Provide solutions to issues and demonstrate a commitment to improvement.
Personalization in Business: Delivering Tailored Customer Experiences
Case Studies and Testimonials: Small firms can gather and display client testimonials. Developing case studies showcasing successful customer interactions can boost business credibility.
Community Involvement: Participating in local events, charities, or causes can help small businesses establish a positive reputation, demonstrating their commitment to the communities they serve.
Local SEO for Service-Based Businesses: Local service providers like electricians or plumbers can benefit from optimizing their websites for local SEO, ensuring a strong online reputation and local search visibility.
Email Marketing for Online Brands: Online brands can use email marketing to request customer reviews and encourage submissions. This facilitates consistent positive reviews over time.
Transparency in Communication: Being open and honest about company policies, prices, and procedures builds customer trust. Small businesses should maintain genuine and sincere communication with their customers.
The Closing Words
In today's fast-paced, technologically advanced world, no firm should lag behind. Building a robust internet reputation is crucial for small business owners. There are numerous ways to achieve this, including collaborating with online reputation management professionals to enhance your company's online marketing efforts.
Online marketing methods are an essential component of your business marketing plan if you aim to expand online. Understanding what people say about your business is one of the most critical aspects of public relations. By obtaining accurate information directly from the source, you can respond more effectively to issues. As an entrepreneur, it's essential to invest time and resources boldly in marketing your company online. Therefore, consider partnering with a digital marketing agency that specializes in online marketing to boost your brand's visibility on social media platforms and search engines. Reputation management should be a priority for your company right now.
Published: September 11th, 2023