Video Conferencing for Small Businesses – Affordable Solutions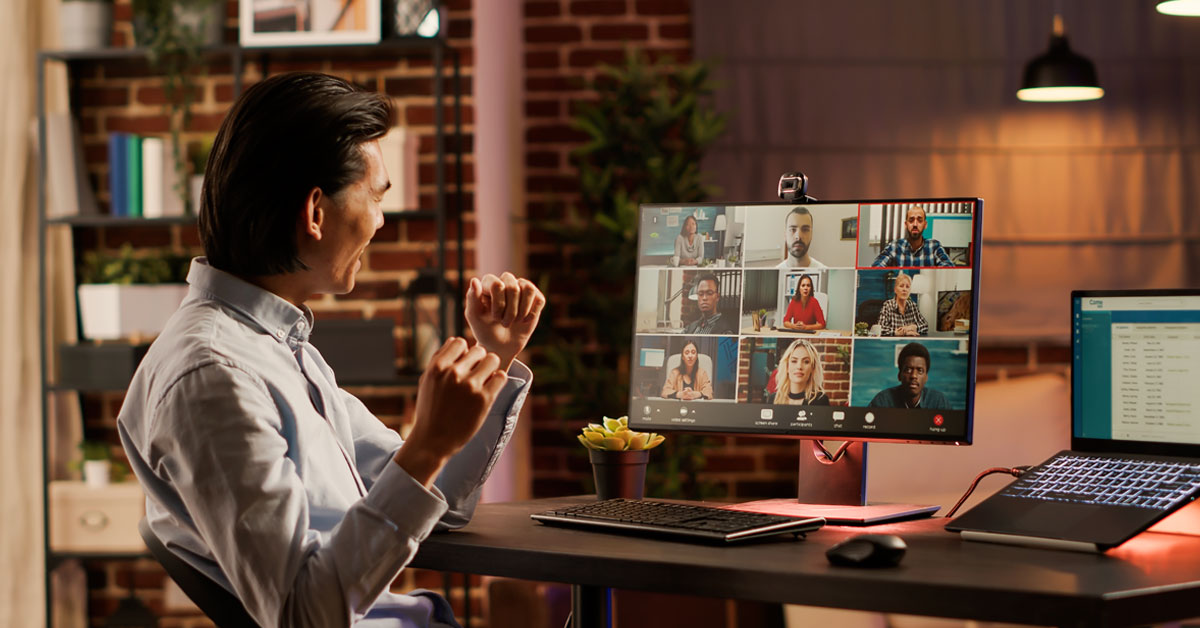 Reading Time:
4
minutes
We will explore everything that can be managed with the best video conferencing for small businesses. This software can help you outperform the competition and enhance the client experience. The best part is that there is a bunch of reasonably priced remote meetings software out there.
It's necessary to select the safest online collaboration programmer if you manage or work for a small business. You'll probably be the one setting up the virtual conferencing software, creating a wish list, testing out the free demos, performing maintenance, and troubleshooting if you have a smaller budget and fewer IT personnel.
The Role of Video Conferencing for Small Businesses Operations
It means holding conferences, face-to-face meetings, and real-time virtual meetings online rather than in person. Compared to an audio conference call, which lacks video, this is somewhat different. An analogous example of this would be a regular phone call.
In the past, online collaborations were held in specially equipped conference rooms within offices, requiring costly and occasionally large technology to link two locations. Naturally, though, you can now download an app or join a meeting straight from your browser on any mobile device, wherever you are.
Top Features to Consider When Choosing an Online Conferencing System
It's not always possible for small firms to experiment with numerous systems until they find the best one because they have limited resources and time. Making an informed choice that satisfies your needs will be made easier if you are aware of the essential components to search for in this system. Among the crucial elements to search for are.
More Effective Visual and Audio Quality
Participants can see each other clearly and without lag or distortion while using high-quality video. Similar to in-person talks, participants can read facial expressions and nonverbal cues. It is also feasible to hear every word spoken throughout the discussion, even when two individuals are speaking over one another, thanks to clear audio.
Aim for features such as auto-framing cameras, noise-cancelling microphones, high-resolution lenses, and immersive audio. These characteristics lessen background noise, which can be distracting during meetings while enabling participants to hear every element of the discourse clearly.
The Ability of Screen-Sharing
Participants can easily share presentations, documents, movies, and other media files by using screen-sharing. Enabling access to document editing or conversations across several places fosters real-time collaboration.
By removing the need for file transfers or email attachments, it also saves time. Using their desktop computers, participants can share files immediately from the online meetings platform without ever leaving it.
Addressing Record Options
Ensuring that your staff and clients don't miss a minute of a crucial video conference is possible with meeting recording and transcribing services. The greatest video conferencing tools make it simple to record a call directly during it. Additionally, you will be able to distribute the transcription and the video recording to anybody you like. This function is especially useful for monitoring and holding employees accountable.
Integration with Current Tools and Software
A good online meetings system should work with chat programs like Microsoft Teams or instant messaging platforms as well as your favourite calendar programs, such as Google Calendar or Outlook. Users may now exchange files and work together in real-time on projects thanks to this.
Without the need to install additional software, a successful solution should also enable attendees to join meetings using their laptops, cell phones, or tablets. To enhance teamwork, participants can use the apps on their gadgets.
Call Reliability as Well as Excellence
All too frequently, call quality and dependability fall short of what the vendor promises. The top small company web conferencing solution should have a track record of reliability and customer service. This is particularly true for small businesses, whom some larger participants in this sector may overlook as the "small fish in the big pond." Regardless of the size of your company, look for a vendor who can provide you with the support and services you require.
Compatibility and Integration for Video Conferencing
When it comes to choosing a virtual meeting for start-ups, compatibility and integration are crucial considerations. Small entrepreneurs often have limited resources and specific needs, so it's essential to select this platform that works seamlessly with your existing tools and systems. Here are a few key points to keep in mind.
Compatibility with Devices: Ensure that video conferencing for small businesses is compatible with a variety of devices, including Windows, Mac, iOS, and Android. This ensures that employees and clients can join meetings from their preferred devices.
Browser Compatibility: Some remote meeting solutions are affordable calling solutions to work entirely within web browsers, making it easier for participants to join without the need for downloads or installations. This can enhance accessibility and reduce technical barriers.
Integration with Calendars: Look for a platform that integrates with common calendar applications like Google Calendar and Microsoft Outlook. This allows you to schedule and manage meetings directly from your calendar, simplifying the process.
Pros of Video Conferencing for Corporations
Conferencing plays a big role in corporate transactions. It makes visual communication easier at any time or place with clients and co-workers. A video conversation can also lessen environmental impact in a number of unexpected but important ways, as well as saving money and energy. Given all the advantages, it makes sense that online meetings are becoming the preferred method of communication for many companies across the globe. Let's analyse the benefits of remote meetings for small businesses.
Remote meetings eliminate the need for employees and stakeholders to travel for meetings, saving on travel expenses, accommodation, and related costs.
Setting up video conferencing solutions is more cost-effective than building and maintaining physical meeting spaces.
Web conferencing can be scheduled quickly, reducing the time spent on travel and preparation, which leads to more efficient use of working hours.
Participants from different locations can easily join meetings, increasing attendance and participation rates.
It enables participants to see facial expressions and body language, enhancing communication and understanding.
Screen sharing and document-sharing features allow for real-time collaboration, these remote Collaboration tools boosting problem-solving and decision-making.
It breaks down geographical barriers, enabling organizations to connect with partners, clients, and employees worldwide.
It facilitates market expansion by allowing companies to reach new markets without establishing a physical presence.
Conclusion
Choosing the right video conferencing for small businesses is a decision that can significantly impact your day-to-day operations. By understanding your business's needs, evaluating key features, ensuring compatibility and security, and considering user experience and scalability, you can make an informed choice.
Published: November 17th, 2023
Subscribe to Our Newsletter
Get monthly product and feature updates, the latest industry news, and more!
By submitting this form, you agree we may contact you in the manner described in our Privacy Policy.