Cloud PBX Service For Business
Businesses attain flexibility by implementing cloud services through the benefits and features. To know the complete details about Cloud computing and services, read out our blog loud: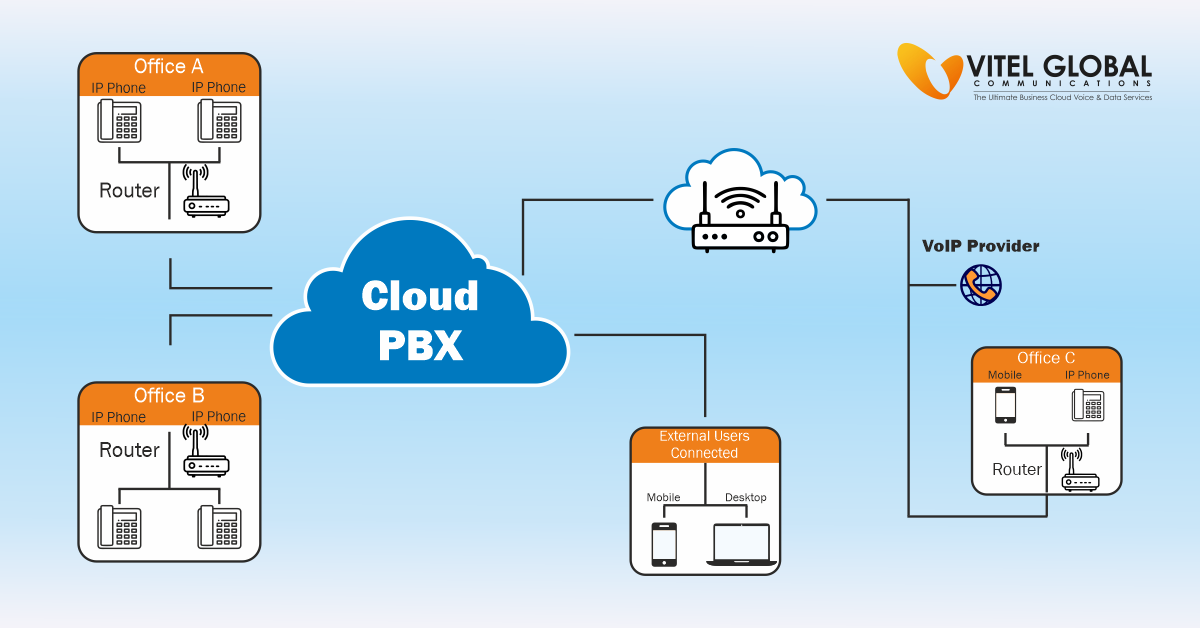 What exactly is Cloud PBX?
Cloud PBX, also called virtual PBX or hosted PBX (private branch exchange), is a telephone exchange system built.
The Cloud PBX solution is managed by a third-party service provider, accessed, and executed through the internet. It is an IP-based telephony solution where the hosting service for any software is done on a server, whereas the cloud PBX hosts all software and the accurate data in the cloud. 
A virtual phone provides a secure and reliable business phone system through the internet following IP.
Types of PBX:
The main types of PBX systems are classified into two types: cloud PBX and traditional or onsite PBX.
Cloud PBX is a hosted offsite service offered over the internet that doesn't require additional equipment like servers for storage purposes.
Onsite/traditional PBX: onsite PBX refers to a system executed on a business server.
Cloud PBX, also called virtual PBX, is a virtual PBX, where any data or software can be hosted in the cloud instead of infrastructure like servers. This cloud PBX has strengths and limitations, which are discussed in this article for our readers. 
First, let's see the strengths or advantages of this Cloud PBX:
Investment savings
Cloud-hosted PBX solutions are highly cost-saving as clients invest money only in the services required to be handled in the cloud, with less investment yet colossal savings.
Time Savings
The setup time for installation, analysis, and provision is minimal compared to traditional phone systems, as you can save time invested in server maintenance and upgrading software or applications.
New hardware:
There is no need to buy additional hardware like a phone system, as the old phone system can be used as it can be interfaced easily with the existing infrastructure or hardware.
Flexibility
It is very flexible as cloud PBX systems provided by top PBX providers allow anyone to connect from anywhere across the globe using a smartphone, desktop, or PC, allowing employees to work from home.
powerful features
Additional features like call control, voice menu, time conditions, and call recordings are upgraded continuously with no additional cost and effort.
High-quality
High-quality voice calls are delivered through cloud-hosted PBX with an internet connection, better compression rates, and high internet speeds, which are upgraded accordingly.
Scalability
It provides high scalability as it can quickly scale to meet high usage capacity depending upon the user requirements related to resources.
Disaster recovery and redundancy
Top PBX service providers offer cloud PBX systems with high reliability and dedicated resources and servers.
If a disaster occurs unexpectedly, there will be less chance of losing the data, and even in the case of losing, surely there'll be a recovery for your data.
Security
Cloud PBX systems that top PBX providers provide are more secure than in-house systems. It is the responsibility of top PBX providers to handle all the software upgrades and firewalls.
There are limitations to the cloud PBX systems, as well as advantages, which are given below:
The quality of services is reduced if the broadband is weak and less stable.

The Limitation concerning infrastructure.

Not be highly reliable.

Online PBX systems are less secure compared to onsite security.

Updates in cloud PBX are late compared to onsite.
The three main cloud service models are as follows:
Software as a Service (SaaS): This is a cloud product where software acts as a service, which means the consumer can access the product directly from the browser without installing it into the system. For example, Gmail and other webmail services are free, and some other cloud computing can be subscription-based.
Platform as a service (PaaS): This is a cloud-based product utilized by big companies like Google to create big data centres that give remote access to files accessible to all users worldwide. 
AWS and Google are good examples that offer their infrastructure's resources, security compliance, and network connectivity as a product to the end-users, which may be big-sized to mid-sized or small companies.
Cloud computing has the following advantages:
The key benefits of cloud computing, when implemented in companies, are:
cost savings

It is effortless to use.

a large storage capacity

easy automation

data is highly secure

It is easily accessible, highly flexible, and scalable.

High performance in processing.

One can access files from any place.

It provides high integration with files.

We share the resources.
Collaborate easily.
API integration is an interface between two or more organization applications that allows systems to exchange data. 
Example: The implementation of an API is seen in sending data to a server when one connects your mobile application to the internet. The server accepts the request from the receiving side and sends the solution to the receiving side. 
The key benefits of API integration are:
API IS USED TO DISTRIBUTE PERSONALIZABLE DATA, INFORMATION, OR SERVICES.

AS IT CAN BE INTEGRATED WITH ANY APPLICATION, IT IS VERY FLEXIBLE.

EXECUTION WAS QUICK AND EFFECTIVE.

EASY UPGRADING

THE CONTENT AND SERVICES CAN BE EASILY CUSTOMIZED

ALLOWED FOR SHARING AND DISTRIBUTION

EXTREMELY EFFICIENT

EXTREME AUTOMATION

VERY ADAPTABLE IN TECHNOLOGY AND DATA MIGRATION

EFFECTIVE IN TIME

EFFECTIVE COST

TECHNOLOGY AND PLATFORM-INDEPENDENT

EXTREMELY SAFE

ACCESS TO APPLICATIONS IS SIMPLE

APPLIED IN TRAVEL AND HOTEL BOOKINGS, PAYPAL, AND OTHER APPLICATIONS
These are the few critical benefits of implementing API integration in any organization.
Cloud PBX features:
The features of PBX system have many features.
Call Barge

Automatic Call Distribution

Call Recording

Online User-Interface

Call Queues

Monitoring of Live Calls

Call Whisper

Voicemail Transcription

Analytics and Reporting

Virtual Attendant (IVR)

Call Groups
Conclusion:
Cloud PBX software market is growing at a significantly faster rate when compared to the market growth rates over the last years, mainly deployed over the communication infrastructure in the pandemic era and expected to grow more in the future obtained after evaluation of multiple markets and client reviews.
 Vitel Global is becoming a key and dominant player in the market for providing cloud PBX solutions with varied services and products integrated with powerful features delivering outstanding profits to your business.
Grow your business and maximize productivity with the industry's best business communication service.
For more details, visit our website and start creating wonders in your organization right away.
For More Info or Book Your Free Demo Today click here